Black Friday 2023: Epic Deals, Top Retailers, and Pro Tips for Massive Savings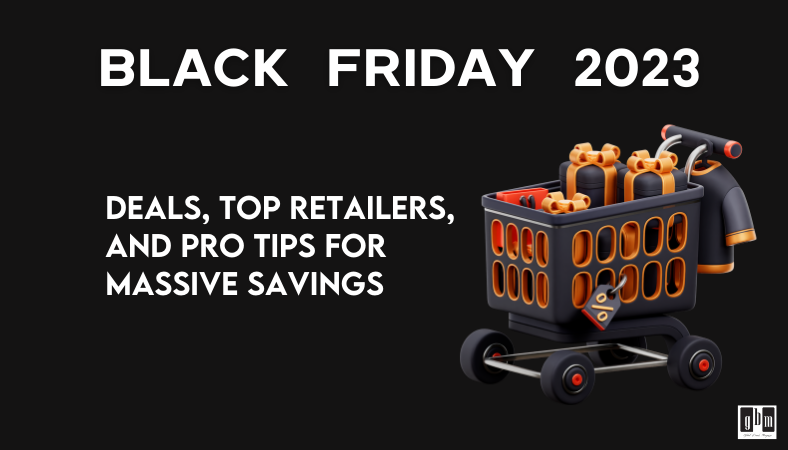 Black Friday 2023: What Deals and Sales to Expect This Year
Get set for an exhilarating holiday shopping season filled with amazing savings! While Black Friday won't arrive until later in November, savvy shoppers know now is the time to prepare! As one of the ultimate shopping events, Black Friday promises unbelievable discounts on a wide range of products- from state-of-the-art electronics like TVs, gaming consoles, and PCs to essential items – at incredible discounts. Some retailers have even started promotions early and want early bird shoppers to get ahead on their holiday shopping spree!
When Is Black Friday?
Black Friday always lands on the Friday after Thanksgiving. Black Friday 2023 will be taking place on Friday, November 24 this year. That being said, Black Friday deals will likely start much earlier. You can expect discounts to start arriving in late October or the beginning of November. The best deals will still happen closer to Black Friday and you can start expecting big savings on Friday, November 17, the weekend before Thanksgiving.
It's also worth noting that both Costco and Best Buy's early Black Friday sales are now live this year for all, so you'll be able to start shopping those discounts before November arrives.
When Does Cyber Monday Begin?
Black Friday isn't the only retail holiday in November. Shortly after Black Friday, the deals will begin to morph into Cyber Monday sales. Cyber Monday will officially land on Monday, November 27 this year. That being said, Cyber Monday deals usually start arriving as early as the following Saturday and Sunday after Black Friday. You can also expect the savings to last through the entire week in a phenomenon that has loosely been labeled as 'Cyber Week' by various online retailers.
Black Friday Deals to Expect?
The long and short of it is that pretty much every product and brand under the sun will have some sort of promotion or discount going on during the Black Friday season. That being said, the best discounts will likely be on big-ticket items that don't normally get big price cuts.
Gaming Consoles
Arguably the most popular holiday gift, gaming consoles are an expensive purchase that don't usually have discounts. Black Friday is the best possible time to buy a new console, whether you're looking for PS5 deals, Xbox deals, or a sale on Nintendo Switch, there's usually something on offer that's worth your time. It's worth noting that the best discounts will often come in the form of discounted console bundles rather than direct price cuts, however. Sony also recently announced the PS5 Slim will be available this holiday season, so look out for bundles on the new tech.
PCs and Laptops
Another big-budget tech category, PC and laptop deals are some of the most sought after sales of the holiday season. This is especially true of gaming PC deals and gaming laptop sales thanks to the relatively high price of the graphics cards inside these machines. The manufacturers like Dell, Lenovo, and HP will have their own Black Friday sales, but you'll also be able to find discounts at online retailers like Amazon and Walmart. It's arguably the best time to buy a laptop from any brand.
TVs
Although TV prices have dropped significantly in recent years, Black Friday is still the best time to buy a new TV. The biggest online retailers always have some pretty tremendous price cuts on both 2023 models as well as older versions of the bigger brands. You can find discounts on Samsung, LG, Sony, TCL, and Vizio TVs just about everywhere with prices well under $300 on some great 4K models. If you're looking for the best TV deals on OLED or LED, the day after Thanksgiving is your best bet.
Phones
If you're hoping to pick up a new phone for cheap, the holiday season is the best time to do so. With new releases in the fall, like the iPhone 15 Pro, all of the different mobile carriers start offering promotions attached to new phone plans. This will usually be in the form of BOGO offers when you switch carriers, or different trade-in deals for those looking to upgrade. Not only that, unlocked phones usually get straight discounts from retailers like Amazon, Walmart, and Best Buy. It's a great time to get an older iPhone for cheap if you don't mind not having the latest model.
Headphones and Earbuds
Even some of the best budget earbuds can be expensive, and if you're hoping to pick up a pair of nice noise-canceling headphones, you could end up spending a small fortune. This makes Black Friday one of the best times of the year to buy any headphones, earbuds, or headsets. There are almost always deals on AirPods, Sony, Beats, and Samsung headphones. There are likely to also be some phone bundles that throw in branded earbuds for free with your purchase, so you'll want to keep an eye out for those as well.
Tablets and E-Readers
Tablets remain one of the most popular tech products on the market. Not only can some of the best iPads play full-on video games these days, they can also double as work laptops, smart home devices, or an extra monitor. And although a high-end tablet can be an E-Reader, you can also buy devices that do just that for much cheaper. There are always a bunch of really good Kindle deals available during the Black Friday season that can help you pick up a reading tablet for under $100.
Video Games
Gaming console deals are usually some of the hottest sales of Black Friday, but you can also usually get some pretty great discounts on video games as well. These price cuts usually come in the form of popular games dropping under $30 or a BOGO sale. The sales usually exclude the best new games of the year, but if you don't mind browsing top games of the past 5 years then you can usually find a really good deal.
Vacuums
When it comes to household products, vacuums can really suck up the bulk of your spending budget. A decent vacuum doesn't come cheap, and if you're planning on buying a Dyson or Shark model, the price only gets higher. This makes Black Friday season one of the only times you should ever really consider making a vacuum purchase. There also tend to be some amazing discounts on robot vacuums as well, making Roomba ownership surprisingly affordable.
Kitchen Appliances
Although not as flashy as a new TV or gaming console, things like espresso machines and stand mixers can be surprisingly expensive. Almost every major retailer will be offering discounts on these types of products, and if you're in the market for a Nespresso machine or an instant pot, there's no better time to buy than Black Friday.
Toys
Due to its proximity to the holidays, Black Friday is a great time to buy toys for a lot less. Some of the most expensive LEGO sets always go on sale in November, and you can usually find things like action figures, dolls, and Nerf guns for sale as well. It's also a great time to grab one of the best board games for cheap.
Clothing
New clothes are one of the most popular things to buy during Black Friday season, and you'll especially find some excellent menswear deals. You will usually find some incredible store-wide discounts from places like Kohl's and Macy's that bring prices down to a reasonable level. Smaller shops will also usually have some sort of sale in line with the season. Just make sure you check the Black Friday hours for those stores before you go.
Black Friday Retailers?
Although most brick-and-mortar stores will have some sort of Black Friday sale, the majority of the best Black Friday deals will be online in 2023. You'll likely want to do the bulk of your shopping from these online retailers:
Amazon Black Friday Sale
The Amazon Black Friday sale, and subsequent Cyber Monday sale, is probably the most expansive one on the web. Not only do they tend to have competitive pricing on Apple products, gaming consoles, headphones, and TVs, they also have discounts on clothing, furniture, vacuums, and just about everything else under the sun. Amazon will also have the best prices on its own brands, like Fire TVs, Kindles, and Echo devices. If you have an Amazon Prime Membership, you'll likely want to do the bulk of your online shopping at Amazon.
Best Buy Black Friday Sale
If you're mostly planning on buying consumer tech and appliances this year, then the Best Buy Black Friday sale is likely going to have everything you need. Similar to Amazon, Best Buy will have discounts on video game consoles and accessories, Apple products, TVs, and phones. They also tend to have discounts on popular kitchen appliances like Instant Pots and coffee makers as well as major appliances, like washing machines. You can also become a My Best Buy Plus member to get access to exclusive deals and free 2-day shipping. Best Buy's early Black Friday sale has begun this year for everyone and has already begun for My Best Buy members.
Walmart Black Friday Sale
The Walmart Black Friday sale has one of the largest selections of Black Friday deals every year, comparable even to Amazon. You can expect all of the same gaming console and tech discounts as Best Buy while also offering a wide range of deals on furniture, outdoor gear, and toys. They also tend to have some of the best prices on Vizio and Hisense TVs every year.
Target Black Friday Sale
Target tends to have a very good Black Friday sale on consoles, TVs, toys, electric razors, and kitchen products. They also tend to have some discounts on their own home decor brands that you won't be able to find anywhere else. You can also become a Target Circle member to get access to additional benefits and discounts.GameStop Black Friday Sale
Although other major online retailers will have similar sales on consoles and video games, GameStop will only have those discounts. Bundles and game pricing will likely be very similar to that of Amazon, Walmart, and Best Buy, but there will likely be additional game-specific sales you won't find anywhere else. Last year, this included a buy two get one free sale on popular console games like Spider-Man and Assassin's Creed Valhalla. The video game retailer has already dropped an early sale, offering 50% off select games.
Dell Black Friday Sale
If you're looking specifically for PCs and laptop sales during the holiday season, the Dell Black Friday sale is always one to look out for. Naturally, they tend to have the best prices on a variety of their own hardware, including work laptops, gaming PCs, and even a few gaming monitors. There are almost always Dell and Alienware deals going on, but Black Friday is probably the best time to shop directly from the manufacturer.
Costco Black Friday Sale
If you are already the proud owner of a Costco membership, you'll be pleased to know that the wholesale retailer is one of the best places to shop for Black Friday deals. The Costco Black Friday sale will start very early with the first wave of deals arriving today, the second wave of deals on November 13, and the main Black Friday sale starting online on November 23. Discounts include groceries, TVs, Laptops, furniture, kitchen products, and just about everything else sold at Costco.
Kohl's Black Friday Sale
The Kohl's Black Friday sale is almost always surprisingly good. Not only do they usually have the best prices on clothing, but they usually offer a store-wide discount that covers just about everything. On top of that, the retailer will most likely offer Kohl's cash for the money you spend in the store or online. Kohl's is also a surprisingly great place to find deals on kitchen appliances, toys, and various other electronics.
Macy's Black Friday Sale
Macy's may not be as popular as it used to be, but it has the benefit of having actual brick and mortar locations. The Macy's Black Friday sale is usually a great place to find deals on clothing, jewellery, makeup brands, home decor, and kitchen appliances. Last year there were brand-specific discounts on UGG boots and Levi's clothing that could likely appear again.
eBay Black Friday Sale
eBay is one of the biggest online shopping destinations in the world. Although most folks usually associate the website with online auctions, they have a surprisingly great selection of Black Friday deals every year. eBay does have some new products on sale, but the bulk of their discounts are on certified refurbished laptops, vacuums, tools, and various other electronics that can be purchased at a significant price cut.
There are many other retailers that participate in Black Friday sales. Here are a few more notable ones:
Apple Store

Newegg

B&H Photo Video

Home Depot

Lowe's

JCPenney

Bed Bath & Beyond

Staples

Office Depot/OfficeMax

Ulta Beauty

Sephora

Nordstrom

Bloomingdale's

Gap

Old Navy

Banana Republic

Adidas

Nike

Under Armour
These are just a few examples, and there are many more retailers that offer Black Friday deals both online and in-store. Keep an eye out for announcements and advertisements from your favourite stores as Black Friday approaches.
Black Friday Shopping Tips?
It may seem silly to start planning your Black Friday shopping right now, but doing so can help you save a lot of money when it comes time to actually start making purchases. Here are a few Black Friday tips that you should consider ahead of the event:
Set a Budget
Keeping track of how much money you can actually spend is important to avoid overspending. When everything is on sale, it can be easy to buy more than you really should just because things are at their lowest price of the year.
Create a Shopping List
Knowing exactly what you're trying to find discounts on is a great way to avoid making unnecessary purchases. It can also make it easier for you to compare prices between retailers or set price drop alerts ahead of time.
Compare Prices
Retailers like Amazon, Best Buy, and Walmart make it really easy to do all of your shopping there. That being said, those retailers don't always have the best price on the items you're looking for. Make sure to compare prices across the web before you buy something for more than you have to.
Research Before You Buy
If you're making an expensive purchase, make sure you do at least some research before you buy that item. This means looking for independent reviews or testimony from trusted sources about those products. You shouldn't necessarily trust Amazon reviews, for example.
Be Wary of Search Results
Search platforms, such as Google, have a tendency to be flooded with sponsored links in the results. Be careful to avoid clicking on a sponsored ad if you're looking for reviews or searching for specific products by price.
Sign Up for Retailer Newsletters
Many retailers send out exclusive deals and early access to their subscribers. Consider signing up for newsletters from your favourite retailers to get a heads-up on their Black Friday offers.
Use Price Tracking Tools
There are various tools and browser extensions available that can help you track prices over time. This can help you determine if a Black Friday deal is actually a good one, or if the price has been inflated before the sale.
Check Return Policies
Before making a purchase, make sure you're familiar with the retailer's return policy. This is especially important for big-ticket items. You want to know if you'll be able to return or exchange the item if it doesn't meet your expectations.
Consider Online and In-Store Options
While online shopping is convenient, don't overlook in-store options. Sometimes, retailers offer exclusive in-store deals that aren't available online. Plus, in-store shopping can be a fun experience, especially if you enjoy the hustle and bustle of Black Friday.
Stay Safe Online
Only shop on secure websites, and be cautious of phishing scams and fraudulent sites. Avoid clicking on suspicious links in emails, and always double-check the website's URL before entering any personal information.
Take Breaks and Stay Hydrated
Black Friday shopping can be intense, especially if you're doing it in-store. Remember to take breaks, stay hydrated, and get some fresh air. It's important to prioritize your well-being during the shopping frenzy.
Have a Backup Plan
If you have your heart set on a specific item, have a backup plan in case it sells out. This way, you won't be left disappointed if the deal isn't available.
Remember, Black Friday can be a great opportunity to save on holiday gifts and items you've had your eye on. Just be sure to approach it with a clear plan and budget in mind.
In conclusion, Black Friday 2023 promises a plethora of enticing deals across a wide range of products, from gaming consoles to electronics, home appliances, and fashion. With discounts expected to start as early as late October, savvy shoppers can prepare in advance to make the most of this shopping extravaganza. It's essential to set a budget, create a shopping list, and compare prices to avoid overspending. Additionally, staying informed about retailer newsletters and utilizing price tracking tools can help secure the best deals. Whether shopping online or in-store, prioritizing safety and well-being is paramount. With careful planning and smart shopping strategies, Black Friday 2023 is poised to be a rewarding and exhilarating shopping experience for all.
Key Details for Black Friday 2023 Shopping
| | |
| --- | --- |
| Key Points | Details |
| When Is Black Friday? | Friday, November 24, 2023 |
| Deals to Expect | Gaming Consoles – PCs and Laptops – TVs – Phones – Headphones and Earbuds – Tablets and E-Readers – Video Games – Vacuums – Kitchen Appliances – Toys – Clothing – Beauty and Makeup – Sports Equipment – Home Decor – Jewelry – Furniture |
| Top Retailers | Amazon – Best Buy – Walmart – Target – GameStop – Dell – Costco – Kohl's – Macy's – eBay – Apple Store – Newegg – B&H Photo Video – Home Depot – Lowe's – JCPenney – Bed Bath & Beyond – Staples – Office Depot/OfficeMax – Ulta Beauty – Sephora – Nordstrom – Bloomingdale's – Gap – Old Navy – Banana Republic – Adidas – Nike – Under Armour |
| Shopping Tips | 1. Set a Budget 2. Create a Shopping List 3. Compare Prices 4. Research Before You Buy 5. Sign Up for Retailer Newsletters 6. Use Price Tracking Tools 7. Check Return Policies 8. Consider Online and In-Store Options 9. Stay Safe Online 10. Take Breaks and Stay Hydrated 11. Have a Backup Plan |