Best Beaches in Spain to Experience the Utmost Beauty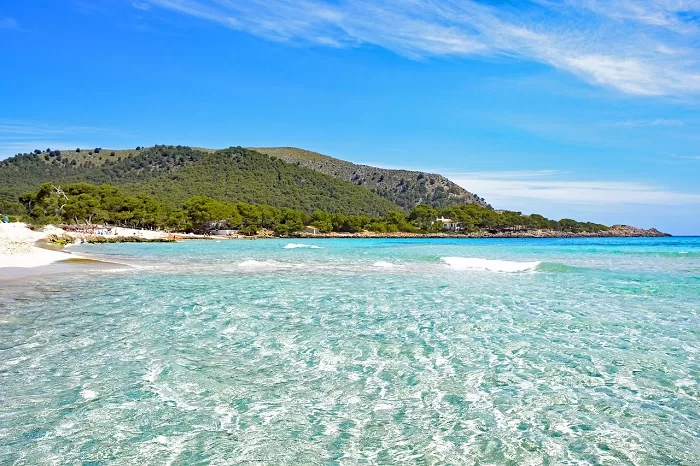 Spain is the ultimate holiday destination. Offering great entertainment, rich historical and cultural background, great weather year-long, and stunning landscapes, it rests among the top countries to visit this year and every other year! So, if it is also on your next holiday agenda, you made the right choice. This time, let's focus on the beaches and coastlines you must visit to experience the utmost beauty and the Spanish charm. Here are our top choices!
Tossa de Mar, Costa Brava
Tossa de Mar is an absolutely lovely municipality in Catalonia and home to several of the most beautiful beaches in the region. With golden-brown sandy coasts and baby blue waters, it is perfect for relaxation and a refreshing swim while surviving the Spanish heat.
However, there is more than the endless horizon of blue waters and clean beaches! With a turn of your head, you will see a large medieval castle on the hill right next to where people lay to relax and sunbathe. So, when the sun gets too much, you can go to explore the castle and other tourist attractions in the town.
Aesthetically speaking, Tossa de Mar beaches are at the top Spanish coasts and easily reachable, too! All you have to do is catch any of the trains to Barcelona, and then it is only a matter of one hour to get to Tossa de Mar, which is located between Barcelona and the French border.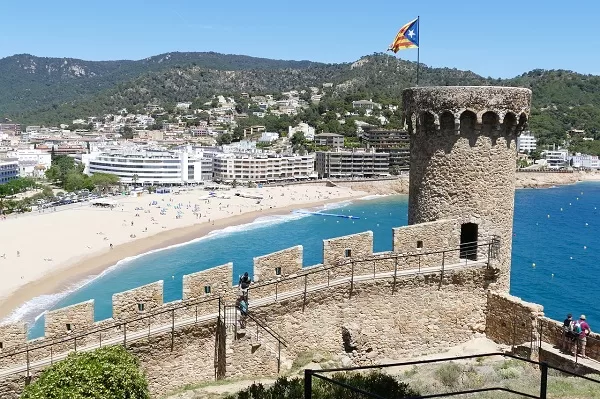 Es Pujols, Formentera
If you desire the beauty and charm of the famous island of Ibiza yet would rather undergo all the festivities, the beach of Es Pujols is the top choice for you!
Being Formentera's only resort, you can expect charming cafes and restaurants all across the coastline, which offer various great refreshments after spending the day lounging at white sandy beaches and swimming in the clear azure waters. What once used to be a small village is now a fun touristy beach, yet still preserves the vibe of an uncrowded region in the way of being quite a chill place without the loud background and all-night clubbing like in the neighboring Ibiza.
However, if late-night buzz is something you start missing at the end of the day, Ibiza is only 30 minutes away via ferry!
Bogatell, Barcelona
Being the second-largest city in Spain, Barcelona naturally has some great beaches worth visiting. So, join the vibes of Mediterranean culture on the Bogatell beach, situated between Nova Icaria and Mar Bella!
The perfect beach for any outdoor or water sports activities, Bogatell is hundreds of meters of soft sandy shore and clear waters. There is plenty of space for volleyball and ping-pong, and there is even a football pitch!
Aside from being a place of fun and sports, Bogatell is extremely beautiful, so you can simply relax and take in the thrilling surroundings. It is right at the edge of quite an urbanized area of resorts and hotel complexes, yet it does not take away from the beautiful horizon of deep blue Mediterranean waters and authentic Barcelonian charm!
Cala Mesquida, Mallorca
The gem of the Balearic Islands, Mallorca is an extremely popular location, so finding a remote beach is quite difficult. Luckily, we dug deep enough, so you don't have to! A trip to Cala Mesquida will prove to be a fun yet relaxing summer vacation place and absolutely beautiful, with just enough space to admire the surroundings without massive crowds.
Many international tourists have not yet discovered it, so the beach is super clean and neat. A small bay for swimming is also all fine sand and warm waters. For your convenience, there are plenty of chairs and umbrella rentals, so you will not have to worry about settling in. The water at Cala Mesquida is a tad darker than in other regions of Meditteranean, creating the perfect contrast between the sealine and the shore!
Almunecar, Costa Tropical
One of the top-rated beach residencies in Spain, Almunecar has a unique feel of a French riviera despite its geographical location, so that might be very interesting to see!
There is a beautiful long beach with a curving promenade full of places to chill for tourists and locals. Choose from multiple cafes and restaurants of traditional Spanish cuisine, and, of course, you can stay at one of the hotels that are right on the shore.
What is also great about Almunecar is that the water here is a little bit chillier than on most of the other beaches, so you will surely be able to refresh yourself after staying in the heat!
If you want to explore more of the surroundings around you, there are plenty of Andalusian attractions nearby, perfect for switching up between lying on the beach and sightseeing!
Playa de Torimbia, Asturias
The impressive region of Asturias, located in a mountainous setting with stunning greenery of Green Spain, is a sight to behold. And, its beaches are the ones to visit!
Playa de Torimbia is one of the gems of Asturias, a beautiful beach near Llanes, about 100 meters from the Cantabrian Sea. With a spacious shore of golden sand and surroundings of rocky headlands and splendid greenery, the beach is perfect for relaxation, especially if you want to spend the day in the quiet. While the Asturias region is an extremely popular tourist location, Playa de Torimbia is relatively secluded, and there are not even shops or restaurants nearby!
However, everything is within walking distance or a short car ride away if you get thirsty or hungry! So, enjoy the raw wildness of this Spanish beach and plan to dedicate the day to loosening up.
Pack your bathing suit and sunscreen! It is time to enjoy the Meditteranean weather and clear waters of the most stunning Spanish beaches. At the top of vacation places, Spain will leave you tanned, tipsy, and relaxed. So adios, and have fun!