Bentley Launches New 2023 Collection Items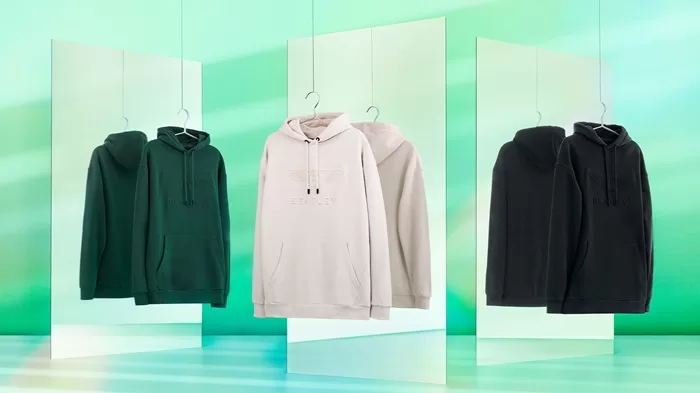 Newly designed, luxurious wardrobe staples are among the new items to join the Bentley collection
Sustainable materials combine with classic, easy-to-wear designs
There's something for all the family for this Christmas and beyond
Now available to purchase on bentleymotors.com
For its latest collection, Bentley continues to fuse craftsmanship and functional design with luxurious detailing. Offering a wide range of products for the home, the wardrobe and children, Bentley's unwavering attention to detail and heritage is infused in each and every one, from the perfectly fitting T-shirt through to an ingenious children's trike.
There is a particular focus on clothing for this Bentley Collection launch. Taking the same attention to detail Bentley applies to its road cars, Bentley has reimagined a number of core items, elevating simple designs into standout, luxury pieces. The 6-in-1 trike gets the Mulliner Edition treatment, referencing the bespoke coachbuilding of Bentley's limited-edition production cars.
The Bentley wardrobe
The T-shirt forms the backbone of the casual wardrobe, so the luxury brand has elevated its with a silk-touch cotton jersey for ultimate softness. The flattering tailored fit ensures it is both easy to dress up or down, while details include a fine rib neckline and top-stitch detailing on the seams for a luxurious finish. Available in classic white or black, it comes complete with a subtle Bentley logo at the chest.
For something sportier, look to Bentley's newly designed polo shirt. Made from a beautiful soft-touch cotton, it is the kind of piece that could worn while traveling, while playing golf or even for an evening workout. It comes with a knitted rib collar and a short, two-button placket, while the ribbed insert on the sleeve references the piping of Bentley's luxurious car interiors. Furthering the understated appeal is the tonal Bentley 'B' emblem embroidered on the chest, as well as the Bentley-branded buttons.
Taking inspiration from classic motorsport pitwall attire, the Collection's new chest stripe designs combine neutral white with dark navy. There is the polo shirt, with its organic cotton, two-button placket and flat frame collar, which is ideal for wearing as part of a sportswear-inspired look on the weekend. And then there is the matching hoodie, which comes with wide rib cuffs, a front double pocket and a heavyweight brushed fleece fabric, which is both warm and exceptionally comfortable.
For the ultimate in stealth luxury though, the Bentley embossed hoodie is hard to beat. Made from an organic cotton and coming with a relaxed, boxy fit, it is finished with a tonal Bentley logo embroidered right across the chest. Available in classic black, soft linen cream and verdant green, it is as comfortable as it is stylish.
Their first Bentley
The Bentley 6-in-1 Trike is an ingenious take on travel for youngsters, with its modular design and luxurious detailing. Built for children aged 10 months and up, it's been engineered to grow with a child, adapting and transforming as they do. It can be morphed into six different stages, which take it from a fully covered pushchair through to a fully operational trike, giving little ones a taste of the freedom a Bentley can offer. This new Mulliner Edition only ups the ante, with its quilted, diamond-in-diamond seat, Mulliner-style alloy wheels, new pedals inspired by Bentley's road cars as well as a unique colour, White Sand.
Accessories for on the move
Just like with its road cars, the Bentley Collection accessories range combines fastidious attention to detail with luxurious materials and intelligent design. For this season, two highlights include the City Umbrella and the carbon fibre Loop Keyring. Perfect for unpredictable weather, the updated umbrella comes in classic black and boasts a timeless, elegant design that looks just as good rolled up in the boot of a Continental GT as it does in the city streets.
Made with a soft-feel handle, it comes with a recessed automatic release, while the sleeve features a sewn-on Bentley branded plaque. The canopy is made from recycled materials while the shaft and ribs are durable fibreglass. For something more easily concealed, our Loop Keyring has been expertly designed with Italian leather and a subtle Bentley 'B' emblem, while the enamelled stainless steel split-ring has been engraved with the words 'Bentley Motors'. Subtle and beautifully made, the keyring subtly hints at the car to drive or the one to aspire to own.
Teddy Bears
People may already know the Bentley boys and girls, but now Bentley presents the Bentley bears. Furry and adorable characters, each of the four teddies are beautifully soft to the touch and stylish in their attire. There is the Special Edition Signature Bear, dressed for formal occasions with a double-ribbon necktie and a Bentley-branded ear tag. Then there is the Engineer teddy bear, primed for the pits with their white and green overalls and matching cap, just like Bentley's own motorsport boffins.
Inspired by one of the courageous Bentley boys who dominated the Le Mans 24 Hours in the late 1920s and early '30s, the Heritage Racing Bear has borrowed his polka-dot scarf from Sir Henry 'Tim' Birkin, father of the famous supercharged 'Blower'. While Cosy Knit teddy is the baby Bentley of the family, with a coordinating knitted jumper and bobby hat, featuring the Bentley wings logo and a diamond design within the knit that's reminiscent of Crewe's finest craftsmanship. Just like one of Bentley's motor cars, the Bentley teddies are made to last and be passed from one generation to another. Each is presented in a 100 per cent cotton Bentley-branded dust bag.
Now available to purchase on shop.bentleymotors.com
Source: Bentley