Bank DBS Indonesia Introduces This Is DBS Digibanking, A Digital Corporate Banking Solution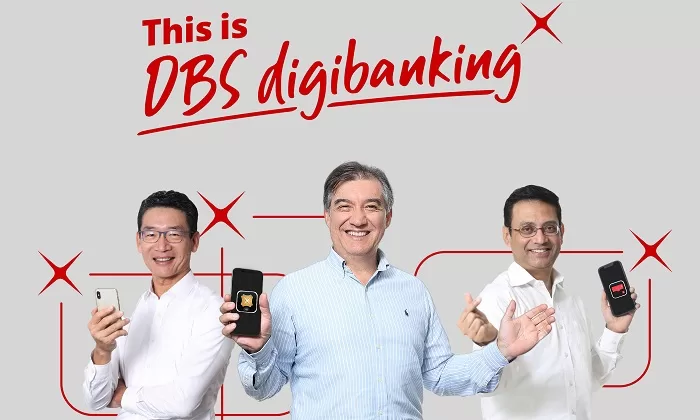 Technological developments support the financial and banking sectors in carrying out digital transformation to meet customer needs. To address customers' needs for digital banking that makes it easier for them to manage their finances, Bank DBS Indonesia offers This is DBS digibanking with DBS IDEAL and DBS RAPID as core products.
 This is DBS digibanking is available for individual customers through digibank by DBS and for corporate or small and medium enterprises customers through DBS Corporate Banking. This is DBS digibanking is an intuitive, smart, and practical digital corporate banking solution to facilitate customers' daily transactions. This innovation puts together the entire banking experience, from the best-in-class features to services and customer journeys, as testament to DBS Indonesia's leadership and digital transformation in providing banking services that are relevant to customers.
This is DBS digibanking offers a complete, easy, and hassle-free banking experience to ensure that corporate customers can enjoy real-time online banking services anytime and anywhere. This confirms Bank DBS Indonesia's commitment to supporting corporate customers and communities in realising an easy life without having to be complicated by banking matters, or, in other words, to "Live more, Bank less". Fully inspired by customers, This is DBS digibanking offers a limitless experience, including for corporations and small and medium enterprises, in their daily business activities.
As a tangible form of This is DBS digibanking, Bank DBS Indonesia presents DBS IDEAL for internet banking access and DBS RAPID for API-based connection. These solutions help corporate customers run their business seamlessly. Corporate customers can adopt DBS IDEAL in an instant for real-time processing of payments, accounts receivable management, and financial information inquiries. DBS IDEAL is supported by various features and services, such as Digidoc for digital submission of supporting documents, Online FD for deposit placements, FXOnline for making foreign currency exchange contracts, and Supply Chain Financing, for an effective and efficient processing of customer business transactions. In addition, DBS RAPID makes the processing of payment transactions, foreign currency exchange, trade transactions, and financial information more deeply integrated into the workflow of corporate customers, incorporating banking processes into the customer's daily processes intuitively without the need for customers to change their systems to perform banking transactions. This is part of Bank DBS Indonesia's digital banking transformation.
"Technological developments and the growing needs of increasingly dynamic customers encourage Bank DBS Indonesia to continue to create digital innovations to face today's complexities and challenges. Previously, customers had to go through a manual process and needed time to get the latest status of their corporate banking transactions. DBS IDEAL and DBS RAPID will simplify and speed up the process by enabling customers to make transactions anytime and anywhere, track transactions in real-time, transparently and informatively," said Executive Director, Head of Global Transaction Services, PT Bank DBS Indonesia, Iwan Rusli.
Bank DBS Indonesia is committed to being an enabler to customers in various segments, both corporate and small and medium enterprises customers. This is realised by optimising DBS IDEAL and DBS RAPID as part of Bank DBS Indonesia's ecosystem that can meet customer needs. These enablers are integrated into customers' daily activities, not only in conducting payment transactions or cash management but also in helping corporate customers increase their business scale through the digitisation of supply chain financing and foreign exchange transactions.
Currently, corporate customers are undertaking transformation journeys to switch from manual processes and systems to digital platforms that cover all aspects necessary to run and review business processes. This is in line with DBS IDEAL and DBS IDEAL RAPID that have received appreciation and positive response from users. According to DBS internal data, during the pandemic, March 2020-June 2021, there was an increase in the number of users of DBS corporate digital services, with DBS RAPID enjoying a twofold increase in the number of users. In addition to user growth, the usage volume of DBS RAPID services also increased by more than 140%. Another digital solution offered by This is DBS digibanking integrated into DBS IDEAL is DBS Incoming and Outgoing SWIFT GPI (Society for Worldwide Interbank Financial Telecommunication, Global Payment Innovation), an online tracking service supported by SWIFT, with the GPI providing up-to-date information on the status of outgoing and incoming transactions in real-time, at no additional cost.
Bank DBS Indonesia was recognised as the most innovative digital bank globally at Innovation in Digital Banking Awards 2021 held by The Banker. Bank DBS Indonesia also received an award at The Asset's Awards for Best Payment and Collection Solution for Cash Management Product (RAPID) for one of Bank DBS Indonesia's corporate customers. These recognitions confirm Bank DBS Indonesia's commitment to providing the best digital services by utilising the latest artificial intelligence (AI) or machine learning-based technologies as a solution for customers.
Source: DBS Bank