Babolat unveils world's first connected racquet, Babolat Play Pure Drive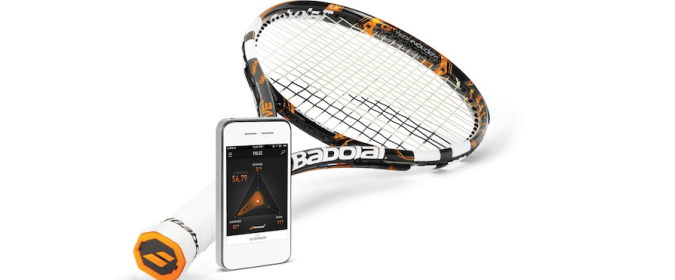 BOULDER, Colo., Aug. 22, 2013 /PRNewswire/ — An international leader in tennis innovation, Babolat announces the commercial launch of Babolat Play, unveiling the world's first connected racquet: the Babolat Play Pure Drive. The launch of the Babolat Play Pure Drive is planned for December 2013 in the US, with global distribution to follow in 2014.
After 10 years of research, extensive testing and input from the tennis community, Babolat offers yet another breakthrough innovation to the game of tennis: the new Babolat Play Pure Drive. The Babolat Play connected racquet allows every player to live a unique experience based on progression, fun and sharing. Eric Babolat, president and CEO of the eponymous company said, "The course of tennis history will change with connected racquets, and that starts with Babolat Play. I believe that in the near future, all tennis racquets will be connected."
Gathering data to quantify your game and skills is a new concept in the game of tennis. Just as sports like running and biking have changed with quantified-self technologies, Babolat Play will alter the game of tennis for future generations. "In tennis, as in other sports and in our daily lives, sharing and comparing experiences through digital tools is becoming the new normal," said Eric Babolat. "We're adding concrete information to the sensations players receive."
Babolat Play Pure Drive, the connected racquet
Babolat Play keeps the excitement and adrenaline of the game going once the player has left the court by enabling tennis players of all levels to share their information and become united through a common language.
Sensors integrated into the handle of the Babolat Play racquet allow players to have access to information about their game.

Babolat Play collects exciting data like shot power and ball impact location (sweet spot) along with number of strokes (forehand, backhand, serve, smash), spin level, total and effective play time, endurance, technique, consistency, energy and rallies.

When the player has finished playing, information is transmitted through a Bluetooth connection with a smartphone or from a USB to a computer, and is viewable on any type of device (including tablets).

Players will be able to share information with the Babolat Play community through a dedicated platform at Babolatplay.com and on a Babolat Play App.
Babolat Play Pure Drive Specifications:
Babolat's challenge has been to integrate sensors in the handle of the racquet, without changing the specifications. The Babolat Play Pure Drive has the same physical specifications as a regular Babolat Pure Drive racquet.
| | |
| --- | --- |
| Headsize   | 645cm²/100 sq. in. |
| Weight    | 300g / 10.6 oz |
| Balance    | 320 mm / 7 pts. HL |
| Grip Size   | 1-5 |
| MSRP  | $399.00 |
To find an authorized dealer, visit www.babolat.com or http://www.babolatplay.com
Starting August 27, 2013, Babolat will be accepting applications from US-based tennis players to be the first to try the new Babolat Play Pure Drive. Fifty players will be chosen to join the Babolat Play Test Team and experience the Babolat Play community before it's accessible by the general public. For info, visit www.Facebook.com/Babolat.
About Babolat
Created in 1875, in Lyon, France, Babolat is the longest-running international company specialized in tennis. Today, Babolat is number 1 in tennis racquet sales in the US. Family-run for five generations, Babolat is an innovative brand in the tennis sector providing complete equipment for tennis players: racquets, strings, shoes, balls, bags, apparel and accessories. Babolat equips numerous tennis players including Rafael Nadal (SPA), Jo-Wilfried Tsonga (FRA), Li Na (CHN), Sam Stosur (AUS),Agnieska Radwanska (POL), Kim Clijsters (BEL) and Andy Roddick (USA): http://www.babolat.com –www.Facebook.com/Babolat
Contact: Annie Coghill
annie@ameliecompany.com
303 832 2700 ext 202
SOURCE Babolat
http://www.prnewswire.com/news-releases/babolat-unveils-worlds-first-connected-racquet-babolat-play-pure-drive-220674221.html