B2Broker: Best White Label Multi Asset Liquidity Platform 2020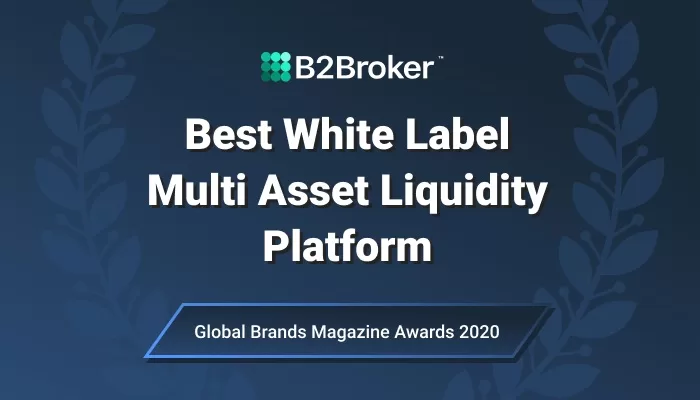 B2Broker, a liquidity and technology provider of solutions for the crypto and foreign exchange industry, is pleased to acknowledge Global Brands' award for Best White Label Multi Asset Liquidity Platform 2020. B2Broker takes this opportunity to share an overview of its industry-leading liquidity offering that has resulted in this prestigious award.
Multi-asset trading has gained momentum in recent times as brokerages look to expand their capabilities and broaden their access. Hence, the growing requirement for multi-asset liquidity. This is one of B2Broker's key areas of specialisation with an industry offering detailed as follows:
The Best Industry Liquidity
B2Broker delivers one of the deepest liquidity pools for Forex, Metals, Indices, Crypto and CFDs with 700+ financial instruments and 7 asset classes. Liquidity is important for all tradable assets, including cryptocurrencies, which are an emerging asset class on the global arena with traders needing to have transactions completed as quickly and as cost effectively as possible.
As well as liquidity on over 100 spot Forex pairs, B2Broker provides tight spreads from 0.00000 pips, no requotes and leverage up to 1:100 with ultra-fast execution. Its crypto liquidity offering includes both margin cryptocurrency derivatives (CFD) and spot liquidity (cash) i.e. physical delivery on an asset. CFD liquidity covers equity markets from across the world and ETFs from the biggest exchanges, covering over 10 indices from exchanges globally, with the ability to trade CFDs on 100 cryptocurrencies, energy and metals CFDs.
Having solid financial markets expertise and access to the best solutions, B2Broker is in the prime position of being one of the most sought-after liquidity providers within the industry.
Multi-Asset Liquidity Since 2014
B2Broker has provided its Prime of Prime (PoP) services to brokerages, hedge and crypto funds, investment managers, professional traders and other financial institutions since 2014. The company delivers its renowned PoP solutions using cutting edge technology coupled with outstanding customer service from its specialised team of experts.
B2Broker empowers businesses by providing the deepest liquidity at ultra-competitive trading costs. Liquidity is aggregated from top Tier-1 liquidity providers including other cryptocurrency exchanges, non-bank liquidity providers, forex brokers, cryptocurrency brokers, Market Makers, OTC orders of institutional clients, hedge funds and thousands of client-broker orders, resulting in the deepest liquidity pool in the industry.
Liquidity Tailored for Every Client
B2Broker liquidity solutions provide clients with access and connectivity to the deepest liquidity pool customized to their exact needs. Whatever the business model, B2Broker provides highly developed liquidity access to take care of all clients' requirements, including those working with HFT, automated, algorithmic and API trading systems.
Aggregation and Distribution
Brokers and white label partners can be connected to B2Broker's liquidity pool in just 5 minutes with an operational setup that ensures swift API implementation. Prime of prime brokerage and liquidity services are offered via FIX API and multiple technology providers.
B2Broker aggregates and distributes liquidity via several distribution systems including OneZero Hub, PrimeXM X-core, B2BX Marksman, Fix API, Tools4Brokers Bridge and AMTS ECN Bridge, offering multi-connectivity cross-connection to MT4, MT5, B2Trader, DevExperts (DxTrade), Celer Tech, xStation and cTrader platforms.
The infrastructure upon which trades are executed is crucially important in getting the fastest trade execution possible. Brokers can gain access to B2Broker's global network coverage from the world's largest finаnciаl ecosystem within all Equinix centers worldwide.
Ease of Execution
B2Broker's access to liquidity allows the company to ensure that all trades can be executed quickly and efficiently. B2Broker offers incomparable levels of technology and speed of execution, facilitated by a single liquidity contract and single margin account. Hence, there is no need to enter into a separate agreement with an exchange, bank, prime broker or liquidity provider.
Simple Liquidity Model
The B2Broker model uses a transparent agency model, simply aggregating liquidity from top Tier-1 liquidity providers within its ecosystem and providing this liquidity to brokers who are then connected to its liquidity pool in just 5 minutes.
Once connected, there are a huge range of benefits on offer including BTC or ETH nominated margin accounts, USD, EUR, GBP or any fiat currency nominated accounts, direct access to deepest institutional liquidity pools, lowest commission on the market, super-tight spreads, large volumes, no dealing, no requotes or last look execution, 24/7 trading hours & technical support, and more.
In essence, B2Broker offers clients access to the deepest liquidity pool and highest institutional leverage available, serving different types of financial institutions as well as exchanges. B2Broker is pleased to be able to offer an award-winning service.