Aussie Fave, Red Rock Deli Potato Chips, Debut Stateside Featuring Exotic New Flavors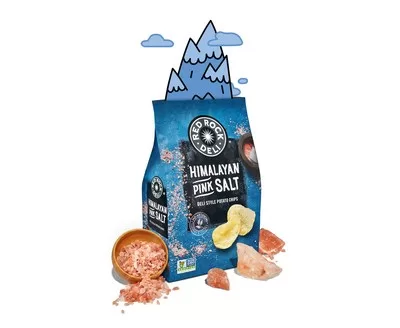 Calling all flavor-seekers and fans of the popular Australian snack brand, Red Rock Deli. The favorite from down under will be available for the first time stateside in select markets, and nationwide through select online retailers, this spring, providing a distinctly unique and elevated snacking experience right here at home. Red Rock Deli's U.S. debut boasts an exciting line-up of new flavor combinations with a satisfying and unique deli-style potato chip texture.
Food-curious snackers are increasingly seeking enhanced culinary experiences and looking to savor unique and sophisticated flavors. With each bite of Red Rock Deli potato chips, consumers will be immersed in a flavor-filled journey – from the savory taste of Himalayan Pink Salt to a perfectly powerful combination of Red Curry and Coconut, to the invigorating fresh taste of Lime and Cracked Pepper. Each variety combines distinct flavor profiles with a velvety crunch.
"Red Rock Deli is a brand that is rooted in a philosophy of unique and elevated flavor experiences," said Stuart Beck, senior marketing director, Frito-Lay North America. "We saw an opportunity to bring this distinctly different snacking experience to the cities here in the U.S. that are always hungry for new culinary trends and elevated snacks."
Red Rock Deli potato chips are made with the finest potatoes that are rough cut, cooked in 100% sunflower oil, and seasoned with three unique flavor blends; Red Curry and Coconut, Himalayan Pink Salt and Lime and Cracked Pepper. They are Non-GMO Project verified and contain no artificial colors or flavors, making them perfect for snacking solo or with family and friends.
Those curious to discover why Red Rock Deli is the newest must-have snack from the chip aisle will be able to experience the delicious snack first hand when the Red Rock Deli sampling tour pulls into select cities this summer. Visit www.redrockdeli.com to find out where Red Rock Deli potato chips are available for purchase, and follow @redrockdeli on Instagram or @redrockdelius on Facebook for tour locations and dates.
About Red Rock Deli
Red Rock Deli potato chips, one of Australia's popular snack brands, is making it stateside debut in select markets this spring 2018. The brand is built on providing unique tastes and textures from around the world to give chip eaters a distinctly different snacking experience. Offering a portfolio of potato chips with one-of-a-kind flavor combinations, consumers quickly discover why Red Rock Deli chips are Snacking Fantastic.
About PepsiCo
PepsiCo products are enjoyed by consumers more than one billion times a day in more than 200 countries and territories around the world. PepsiCo generated more than $63 billion in net revenue in 2017, driven by a complementary food and beverage portfolio that includes Frito-Lay, Gatorade, Pepsi-Cola, Quaker and Tropicana. PepsiCo's product portfolio includes a wide range of enjoyable foods and beverages, including 22 brands that generate more than $1 billion each in estimated annual retail sales.