Apple Previews iOS 10, the Biggest iOS Release Ever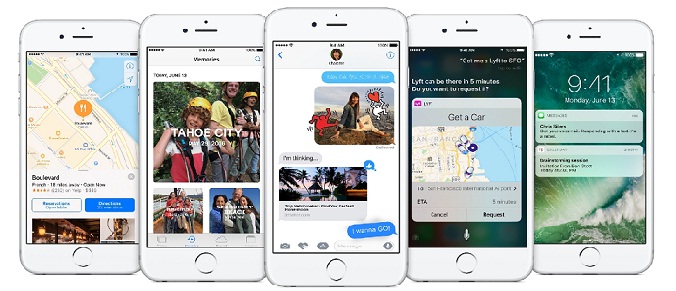 Introduces Massive Update to Messages, New Home App, All-New Photos, Music and News & Opens Siri, Maps, Phone and Messages to Developers
Apple® previewed iOS 10, the biggest release ever of the world's most advanced mobile operating system, featuring a huge update to Messages that delivers more expressive and animated ways to message friends and family, like stickers and full-screen effects. iOS 10 introduces the ability for Siri® to do more by working with apps, beautifully redesigned Maps, Photos, Apple Music® and News apps, and the Home app, delivering a simple and secure way to manage home automation products in one place. iOS 10 opens up incredible opportunities to developers with Siri, Maps, Phone and Messages.
"iOS 10 is our biggest release ever, with delightful new ways to express yourself in Messages, a native app for Home automation, and beautifully redesigned apps for Music, Maps, and News that are more intuitive and more powerful, making everything you love about your iPhone and iPad even better," said Craig Federighi, Apple's senior vice president of Software Engineering. "iOS 10 adds Siri intelligence into QuickType and Photos, automates your home with the new Home app and opens up Siri, Maps, Phone and Messages to developers — while increasing security and privacy with powerful technologies like Differential Privacy."
Personal & Expressive Messages
Messages is the most frequently used iOS app, and with iOS 10 it is more expressive and fun with animated and personalized ways to message friends and family. Messages includes powerful animations, such as balloons, confetti or fireworks that can take over an entire screen to celebrate a special occasion, invisible ink to send a message only revealed after a friend swipes over it, and for added personalization, handwritten notes. Automatic suggestions make it easy to replace words with emoji, Tapback creates a quick and simple way to respond with just a tap and rich links let you see content inline and play media without ever leaving your conversation.
iOS 10 brings the power of the App Store® to Messages, opening up new opportunities for developers to create fun new ways for users to communicate in a thread, including stickers to be peeled and pasted into conversations, the ability to quickly personalize GIFs or edit photos, send payments or schedule dinner or a movie, all from within Messages.
Siri Opens to Developers
In iOS 10, Siri can be extended into major new areas and do more than ever by working with the apps you love to use. For the first time, developers can build on the intelligence Siri offers and let users interact directly with apps using just their voice. SiriKit™ helps developers easily design their apps to work with Siri for messaging, phone calls, photo search, ride booking, personal payments and workouts, or use Siri to control CarPlay® apps, access climate controls or adjust radio settings within automakers' apps.
Beautifully Redesigned Maps
Maps in iOS 10 gets a beautiful redesign that makes it even simpler and more intuitive to use. Now open to developers with new extensions, apps like OpenTable can integrate bookings right into Maps, and services like Uber and Lyft can make it easier for users to book a ride, without ever leaving the Maps app. Maps is even smarter with new intelligence that proactively delivers directions to where you most likely want to go next, based on your routine or appointments on your calendar. Once a route is planned, Maps can search along the route for gas stations, restaurants, coffee shops and more and provides an estimate of how the stop impacts the length of your trip.
Rediscover Memories in Photos
Photos in iOS 10 helps you rediscover favorite and forgotten occasions from your photo library by automatically surfacing them in Memories. Memories scans all your photos and videos and finds favorite and forgotten events, trips and people, and presents them in a beautiful collection. A Memory also contains the Memory Movie, an automatically edited movie with theme music, titles and cinematic transitions.
Memories uses advanced computer vision to group the people, places and things inside your images into albums with on-device facial, object and scene recognition. This intelligence brings Memories and related photos to life in a way that's personal and meaningful to you, while maintaining your privacy.
Home App for Simpler Home Automation 
The Home app is deeply integrated into iOS, delivering a simple and secure way to set up, manage and control your home in one place. Accessories can be managed individually or grouped into scenes so they work together with a single command and can be controlled by using Siri. They can be managed remotely or set up for home automation with Apple TV®, and can respond with automatic triggers set by time of day, location or action.
Support for HomeKit™ continues to expand globally with nearly 100 home automation products adopting HomeKit this year, bringing support for thermostats, lights, window shades, door locks, video cameras and more to the Home app. Later this year, leading home builders, including Brookfield Residential, KB Home, Lennar Homes and R&F Properties, will begin integrating many of these HomeKit devices into new homes.
All-New Design for Apple Music & News
Apple Music has an all-new design, bringing greater clarity and simplicity to every aspect of the experience. It uses a new design language that allows the music to become the hero and a new structure that makes it easy to navigate and discover new music. The Library, For You, Browse and Radio tabs have been completely redesigned to provide an even greater sense of place, and we've added a Search tab to make finding music even easier. All of these changes come together to create a design that is clear and intuitive. iOS 10 features a redesigned News app with a new For You, organized into distinct sections that make it easier to find stories, support for breaking news notifications and paid subscriptions.
iOS Experience
In iOS 10, accessing the information you need is easier and quicker than ever. Raise to Wake automatically wakes the screen as you raise your iPhone®, making it easier to view all your notifications at a glance, right from the Lock screen. Notifications, Today view and Control Center are accessible with just a swipe or a press, and deeper 3D Touch™ integration with iPhone 6s and iPhone 6s Plus makes interacting with apps even easier.
Additional iOS 10 Features 
Siri intelligence brings new QuickType® features, including contextual predictions to surface relevant information based on location, calendar availability or contacts; and predictive typing supports multiple languages without switching keyboards.
Phone adds integration for third-party VoIP calls, voicemail transcription and a new caller ID extension for spam alerts.
Built-in app updates include Safari® split-view for iPad®, Notes collaboration and Live Photos™ editing.
Apple Pay® can now be used to make easy, secure and private purchases on participating websites using Safari, in addition to paying in-stores and within apps.
Bedtime Alarm in the Clock app lets you set a regular sleep schedule and receive bedtime reminders.
Privacy in iOS 10 
Security and privacy are fundamental to the design of Apple hardware, software and services. iMessage®, FaceTime® and HomeKit use end-to-end encryption to protect your data by making it unreadable by Apple and others. iOS 10 uses on-device intelligence to identify the people, objects and scenes in Photos, and power QuickType suggestions. Services like Siri, Maps and News send data to Apple's servers, but this data is not used to build user profiles.
Starting with iOS 10, Apple is using technology called Differential Privacy to help discover the usage patterns of a large number of users without compromising individual privacy. In iOS 10, this technology will help improve QuickType and emoji suggestions, Spotlight® deep link suggestions and Lookup Hints in Notes.
Availability
The developer preview of iOS 10 is available to iOS Developer Program members at developer.apple.com, and a public beta program will be available to iOS users in July at beta.apple.com. iOS 10 will be available this fall as a free software update for iPhone 5 and later, all iPad Air® and iPad Pro™ models, iPad 4th generation, iPad mini™ 2 and later, and iPod touch® 6th generation. For more information, visit apple.com/ios/ios10-preview. Features are subject to change. Some features may not be available in all regions or all languages.