Alienware Unleashes Revolutionary New Graphics Amplifier with Highly Anticipated Portfolio of Ultimate Gaming Systems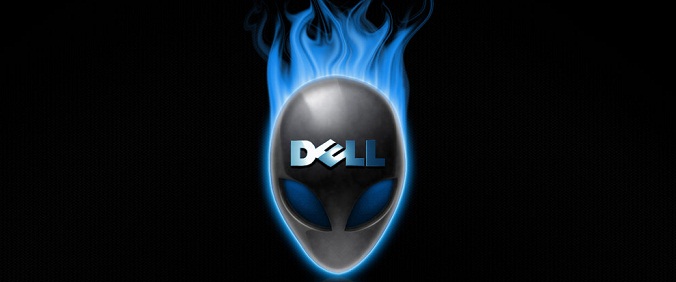 The iconic Alienware Area-51 flagship desktop, mobility without compromise Alienware 13 laptop and the innovative Alienware Graphics Amplifier revealed and available to order online October 28.
Alienware 13 laptop and innovative Alienware Graphics Amplifier deliver high performance gaming on the go and up to 375W of desktop graphics performance on your desk

Alienware 13 laptop features full-throttle graphics performance in a 1-inch thin chassis with aerospace-inspired carbon fiber composite surfaces; nearly 40% thinner than previous generation Alienware 14

October 28th marks the return of the legendary Alienware Area-51, packed with the most powerful components, designed for 4k gaming and beyond while featuring the most innovative, functional and  iconic industrial design on the planet

Alienware collaborates with ROCCAT Studios to integrate AlienFX advanced, interactive lighting customization with ROCCAT's innovative gaming peripherals
Alienware, a leader in high-performance gaming systems is announcing details and availability for the legendary return of the Alienware Area-51 gaming desktop and the portable powerhouse Alienware 13 gaming laptop. Alienware also revealed the innovative Alienware Graphics Amplifier; giving gamers desktop graphics performance at home and high performance mobile gaming with the Alienware 13. A truly no compromises approach to gaming.
The Best of Both Worlds
When combining the new Alienware 13  and Graphics Amplifier, gamers no longer need to choose between a portable performer for fragging on the go or the fantastic FPS of a gaming desktop. The Alienware Graphics Amplifier boosts the already potent gaming performance of the Alienware 13, providing desktop graphics quality gaming at home while continuing to offer the same high-performing experience that road warriors demand.
"Until now, gamers have had to make some really hard decisions and compromises when they are looking for their next gaming system. Do you choose the raw power and performance of a desktop, or do you need the portability and battery life to game wherever they choose?" Said Frank Azor, General Manager of Alienware. "The Alienware 13 combined with the Alienware Graphics Amplifier enables gamers to choose both, with an amazingly portable and powerful laptop for mobile gaming and then simply plugging into a desktop-class gaming experience when you get home. This is gaming without compromises."
Raising the Bar for Portable Performance
Starting at $999(USD) the Alienware 13, features an Intel Core i5 processor and NVIDIA's GeForce GTX 860M with 2GB of dedicated GDDR5 graphics memory, all squeezed into a redesigned chassis, constructed with aerospace-inspired carbon fiber composite surfaces, that is a svelte 1- inch thin, weighs in starting at 4.5* pounds and inspired by Alienware's EPIC premium industrial design language. For the first time in Alienware's notebook legacy, the Alienware 13 will offer an optional display powering a 2560×1440 QHD resolution as well as touchscreen technology.  The new LCD offering is designed with an exceptional IPS panel technology for rich, vibrant colors and wide viewing angles. The Alienware 13 is also Alienware's thinnest laptop ever, and still exceeds the high bar for gaming performance set by previous portable heavyweights.
Plug-In to Desktop Gaming Performance
The Alienware Graphics Amplifier can be purchased by itself or alongside the Alienware 13 for $299, and users will have their choice of desktop graphics cards from both AMD and NVIDIA as options when purchased with an Alienware 13 laptop. The Alienware Graphics Amplifier connects directly to the Alienware 13 through dedicated PCI Express lanes, so any graphics card will have more than enough bandwidth to drive desktop graphics experiences. The Alienware Graphics Amplifier can house full length, dual-height graphics cards with up to 375 Watts of power. It also features four powered USB 3.0 ports, so gamers can plug in for instant access to their favorite peripherals and output directly to their gaming displays.
The Legend Returns
Revealed at PAX East, the Alienware Area-51 flagship desktop will be available to configure and order starting at $1,699(USD). Every Area-51 comes loaded with Intel's latest six or eight core Haswell-E Core i7 K-series processors (factory-overclocked), liquid cooling, graphics options from both AMD or NVIDIA, DDR4 memory, Killer Gigabit Ethernet, Intel 802.11ac dual band WiFi and Windows 8.1. Every Area-51 also features the iconic new Triad industrial design language engineered to improve the desktop gaming experience with a focus on optimized thermal management and ergonomics. This new functional design exceeds gamers' requirements for easy access to front and rear ports, provides DIY enthusiasts with an open and comfortable chassis design for future upgrades, with each component meticulously laid out to optimize airflow for exceptional heat dissipation that ensures maximum performance.
Users who want the absolute best performance from their desktop can choose up to:
Intel Core i7-5960X Unlocked 8-Core Processor Overclocked to 4.0GHz with Turbo Boost

Graphics Options include Triple AMD Radeon 290X, Triple NVIDIA GeForce GTX 980 and even Dual NVIDIA GeForces Titan Z Graphics for Quad-GPU gaming

32GB* of Quad Channel DDR4 at 2133MHz

512GB* SATA 6Gb/s SSD main drive with a 4TB SATA 6Gb/s HDD Storage Drive

Killer Gigabit Ethernet NIC

Intel 802.11ac dual-band Wireless, WiFi and Bluetooth 4.0

Windows 8.1 Pro (64 Bit)
Ultimate Control for Ultimate Gaming
Alienware Command Center is also being updated to version 4.0 with a host of new features to enable a customized experience inside and out, in addition to existing features like AlienFX that allows for customized and interactive lighting triggered by events and scenes in-game. The newly expanded central control hub for Alienware systems, Alienware Command Center 4.0 now features detailed performance monitoring and tracking tools including single-click widgets that display vital information about many components including the CPU, GPU, memory and motherboard.
Alienware Command Center 4.0 now features custom tools for different systems, including a tutorial and the ability to track Graphics Amplifier connectivity and status on the Alienware 13. For the Area-51, Alienware Command Center 4.0 includes new detailed overclocking controls and performance monitoring tools that enable users to automatically boost performance with the press of a button or have the granular controls necessary to tweak individual settings with built-in safeguards to push their systems to the max.
Rocketing Ahead with Alienware and ROCCAT
Alienware is also proud to announce a collaboration with the innovative and world-class PC gaming peripheral maker ROCCAT Studios.  Melding Alienware's signature customization and in-game immersion engine, AlienFX lighting system with some of ROCCAT's most innovative peripherals like the Kone XTD, Isku FX and advanced Tyon gaming mouse. ROCCAT sat down with Alienware to expand upon their striking, highly customizable lighting systems and TalkFX lighting effects software. AlienFX enables ROCCAT devices to feature interactive and immersive lighting events for more than 85 games. These in-games lighting events and cues add another level of immersion to the gaming experience and can provide valuable information that give gamers an edge in any match.
Says René Corte, ROCCAT's CEO and founder, "We are extremely proud and honored to begin this rich, collaborative partnership with Alienware. Since 1996, Alienware has been a benchmark for quality, exciting design, and love for the PC Gaming community. Like us, they value high standards in every product they bring to the public, and relentlessly strive to innovate. Our ROCCAT family is thrilled to take these first steps in what will without question be a fruitful partnership, combining some of our very best peripherals with Alienware's AlienFX™ software."
Availability
The Alienware 13, Alienware Graphics Amplifier and Alienware Area-51 will be available to configure and order online on October 28th with global availability this holiday season.
The new Roccat driver that will enable in-game AlienFX™ within Roccat accessories will be released on Roccat.org on Nov 7th 2014.
About Dell
Dell Inc. listens to customers and delivers innovative technology and services that give them the power to do more. For more information, visit www.dell.com.
Dell and Alienware are trademarks of Dell Inc. Dell disclaims any proprietary interest in the marks and names of others.
* Weights vary depending on configuration and manufacturing variability.
* GB means 1 billion bytes and TB equals 1 trillion bytes; significant system memory may be used to support graphics, depending on system memory size and other factors.