Air Canada Begins Offering Satellite Connectivity on International Flights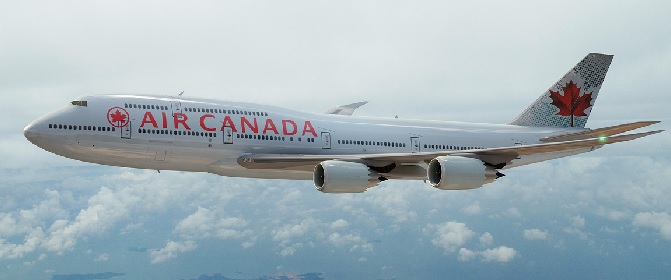 Satellite connectivity across Air Canada's wide-body, international fleet debuts on 777-300ER aircraft
First Canadian airline to offer internet services that enable customers to stream TV shows and movies on their own devices
MONTREAL – Air Canada said  it has begun offering next-generation, satellite connectivity on its wide-body international fleet with the introduction of Air Canada Wi-Fi provided by Gogo. Starting with flights operated by Boeing 777-300ER aircraft, the new service will be the fastest available on any Canadian airline and makes Air Canada the first Canadian carrier to offer customers the ability to stream TV and movies in-flight through the internet.
"Air Canada customers on international wide-body flights will have access to the fastest internet service available on any Canadian carrier. Air Canada Wi-Fi will make traveling more enjoyable whether you're connecting with family and friends, watching a favorite movie or TV program on the internet, or scrolling through your social media feeds. The speed and reliability of Air Canada Wi-Fi will also make it an excellent productivity tool for business travelers, who will be able to keep in touch and work during their journey so they can stay up-to-date and arrive fully prepared for any meeting or event," said Benjamin Smith, President, Passenger Airlines, at Air Canada.
With Air Canada Satellite Connectivity, Wi-Fi is now available on the airline's Boeing 777-300ER aircraft and on Air Canada Rouge's narrow-body fleet. The entire Air Canada and Air Canada Rouge wide-body fleet – including the Boeing 777-200LR, 787-8/9 and Airbus 330 and Air Canada Rouge Boeing 767-300ER – is scheduled to be equipped with the system by mid-2019. Customers can choose from a selection of Wi-Fi packages to suit their needs and Air Canada is offering special introductory pricing for the service starting at $5 on the airline's Boeing 777-300ER fleet until August 31, 2018. Customers can determine if a flight has Wi-Fi available by an icon displayed at time of booking or, for upcoming flights, by consulting www.aircanada.com/wifi.
In addition to the satellite connectivity available on Boeing 777-300ER aircraft and the Air Canada Rouge Airbus narrow-body fleet, Air Canada and Air Canada Express also offer customers Wi-Fi connectivity through a ground-based system provided by Gogo on their narrow-body Airbus A319/320/321, Embraer 175/190 and Bombardier CRJ-900 aircraft travelling within North America.
About Air Canada 
Air Canada is Canada's largest domestic and international airline serving more than 220 airports on six continents.  Canada's flag carrier is among the 20 largest airlines in the world and in 2017 served more than 48 million customers.  Air Canada provides scheduled passenger service directly to 64 airports in Canada, 59 in the United States and 98 in Europe, the Middle East, Africa, Asia, Australia, the Caribbean, Mexico, Central America and South America. Air Canada is a founding member of Star Alliance, the world's most comprehensive air transportation network serving 1,317 airports in 193 countries.  Air Canada is the only international network carrier in North America to receive a Four-Star ranking according to independent U.K. research firm Skytrax, which also named Air Canada the 2017 Best Airline in North America.  Air Canada was also named the 2018 Eco-Airline of the Year by the respected airline industry publication Air Transport World for its commitment to emissions reductions. For more information, please visit: aircanada.com/media, follow @AirCanada on Twitter and join Air Canada on Facebook.
Source: Air Canada