AI for All – Lenovo Unveils Vehicle Computing Roadmap Through Ongoing Collaboration with NVIDIA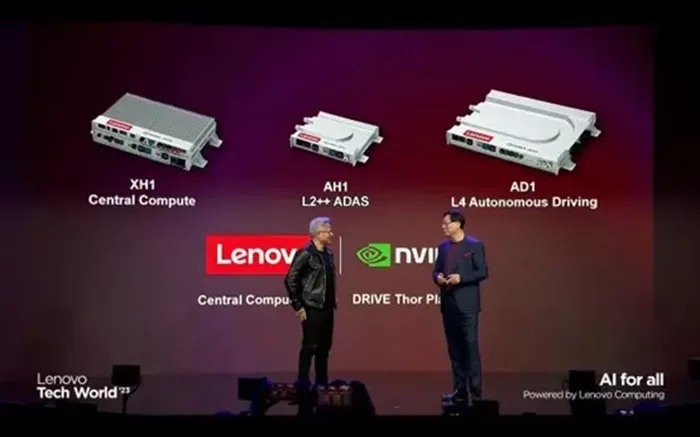 Lenovo showcased a comprehensive AI vision and unveiled a roadmap of AI-powered vehicle computing products in collaboration with NVIDIA DRIVE Thor, aiming for intelligent transformation across industries.
Their demonstration of an intelligent virtual assistant integrated into the XH1 central compute unit highlights the convergence of AI, automotive technology, and personalized user experiences for safer and smarter driving.
Lenovo unveiled its most comprehensive AI capabilities to date, as well as its vision of "AI for All," at the company's annual global innovation event Tech World held last week in Austin. The event, now in its ninth year, focused on how Lenovo is unleashing the power of AI to drive intelligent transformation in every aspect of everyday life and in every industry. This spans from the pocket to the vehicle to the cloud with purpose-built AI-ready devices, infrastructure, solutions, and services that empower industries, enterprises, and individuals around the world.
During the event, Lenovo revealed its vehicle computing roadmap, featuring three new products based on the NVIDIA DRIVE Thor AI vehicle computing platform:
Lenovo XH1: Central compute unit for ADAS and smart cockpit
Lenovo AH1: Level 2++ ADAS domain controller unit
Lenovo AD1: Level 4 autonomous driving domain controller unit
This is the latest development stemming from Lenovo's news earlier this year, in which the company announced it will be a supplier of automotive intelligent controllers based on NVIDIA DRIVE.
At the event, an intelligent virtual assistant based on an automotive foundation model was demonstrated inside the vehicle and will be applied to Lenovo's central compute unit, the XH1. The virtual assistant understands driver and passenger preferences, predicts their needs, and responds as if it were a real human assistant.
Donny Tang, Lenovo Vice President, head of Vehicle Computing noted, "The rapid development of AI, especially foundation models, will accelerate automotive intelligence. In the future, autonomous driving will be safer, and the smart cockpit will be smarter. The vehicle is not just a means of transportation but also an intelligent companion. With automotive AI built on NVIDIA DRIVE Thor, Lenovo can develop vehicle computing controller units to meet customers' unique needs and requirements."
Tang added that in addition to these new controllers, Lenovo is tapping its technical strengths and expertise in cloud, edge, AI, devices, and networking to augment its automotive operating systems and intelligent solutions to empower customers.
The next-generation NVIDIA DRIVE Thor system-on-a-chip harnesses advanced AI capabilities first deployed in NVIDIA Grace CPUs, as well as NVIDIA Hopper and Ada Lovelace architecture-based GPUs, in a single architecture for greater efficiency and lower overall system cost. DRIVE Thor is expected to deliver up to 2,000 teraflops of high-performance compute for functionally safe and secure intelligent driving.
"The shift toward software-defined architectures requires a high-performance compute engine that can support the AI workloads necessary for safe vehicle deployment," said Ali Kani, vice president of automotive, NVIDIA. "DRIVE Thor features the built-in headroom to continually support intelligent driving capabilities, including advanced driver assistance systems, autonomous driving, and smart cockpit."
Since its inception last year, Lenovo's vehicle computing business has gained traction among a broad range of partners, potential customers, and the automotive industry at large. By coupling Lenovo's core strengths in computing technology with NVIDIA's AI hardware and software expertise, the company is poised to deliver leading-edge intelligent mobility solutions for the future.
Source: Lenovo