ADIDAS Introduces The Official Match Ball of The UEFA Champions League Final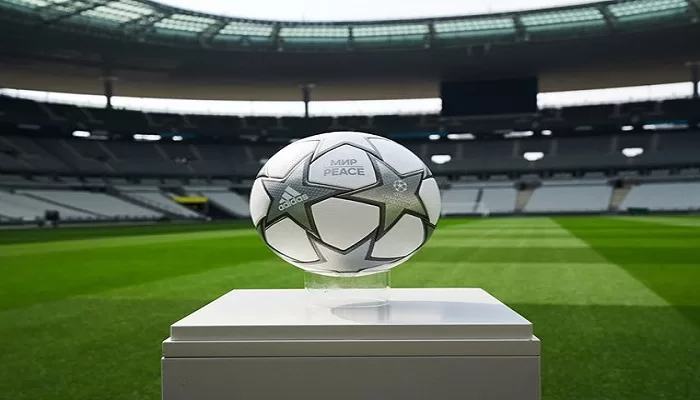 Adidas reveals the Official Match Ball for the UEFA Champions League final, designed to carry a global message of peace from the stadium to the world
The ball will not be available for retail, and instead will be auctioned after the game, with the proceeds going to UNHCR, the UN Refugee Agency, to support people forced to flee their homes
Adidas will also be supporting the local grassroots football community with the refurbishment of the Zinedine Zidane playground in Saint-Denis, Paris
Adidas reveals the Official Match Ball for the 2022 UEFA Champions League final set to take place in Paris, 28th May.
Using one of sport's biggest stages as an opportunity to unite the world in a global message of peace, the ball – inscribed with the words 'мир | PEACE' – will not be available for retail. Instead, the match ball will be auctioned after the game with the proceeds going to UNHCR, the UN Refugee Agency, to help protect people forced to flee their homes because of conflict and persecution.
Placed on the ball in bold lettering as a statement from UEFA, 'мир' in Cyrillic script can be translated as 'peace', which sits above the word in English – PEACE. The ball is designed to carry a simple message of peace, belonging, and hope that will be passed from player to player with every kick of the ball and beyond the Stade de France to the furthest corners of the world. The broader design of the ball is noticeably devoid of colour, featuring pure white panels to symbolise truce and unity.
But with the understanding that the impact of this moment is about so much more than the action at the Stade de France, Adidas is harnessing the power of the world's biggest club football tournament and bringing a special UEFA Champions League experience to the streets and people of Paris.
On 27th May, the day before the UEFA Champions League final, Adidas is organising the Grand Paris Finale 2022 – a special event that offers a one-of-a-kind experience. The event will take place on the Zinedine Zidane Playground in Saint-Denis, where Adidas has created a unique UEFA Champions League setup and pitch. Here, an elite grassroots football tournament will take place with eight local teams from Greater Paris, each representing a city neighbourhood.
This will kick-off a legacy project designed to support the city's grassroots football communities by offering a home and place to play, improving visibility and access to the game at all levels. In addition to the refurbishment of the Zinedine Zidane playground, adidas announces its support of the Saint-Denis Sport Academy and its founder, Yssa Dembélé, which Adidas will be handing the space over to following its refurbishment as part of the grassroots support initiative.
Gonzalo Calvo, Global Director Of Brand Communications, Communities and Culture at Adidas said, "Throughout its history, the love of the game has brought people from all over the world together through one simple object – a football. We are energised more than ever to support the incredible players and clubs that are elevating this platform for the betterment of the game, and world – particularly at grassroots levels."
Yssa Dembélé, Founder, Saint-Denis Sport Academy said, "The regeneration of the Zinedine Zidane Playground by Adidas will be a gamechanger for hundreds of children and grassroots players and teams in the local area. Creating spaces like these mean so much more to locals than just a place to play. They offer a place for people to come that feels safe, welcoming, and like they're part of a wider community"
Source: Adidas