AdenaSoft: Global Top Financial Services Software Provider
Adena Software Co. is the global leader in providing advanced software systems for trading, payment, and financial services companies. Formed in 2006 in the Republic of Korea, the company supports many of the top trading and money transfer companies in Asia and Europe.  AdenaSoft is well known for its seamless white-label financial solutions product providing customizable one stop services to global clients.
As a Software as a Service (SaaS) provider, AdenaSoft helps clients by integrating and supporting ongoing solutions for technologies such as:
Bridge Financial Technology
PAMM/MAM system
Risk Management system
CRM Program
Customer Service Program
IB (Introducing Broker) and Affiliate program
Payment Solution Program
Website Solution
MT4/MT5 Web trading
Multi-Asset Liquidity
Clients can request AdenaSoft services selectively or buyall-in-one solutions. AdenaSoft's comprehensive and user-friendly systems are dynamically interconnected, customized and optimizedfor financial services companiesto provide the optimal business solutions.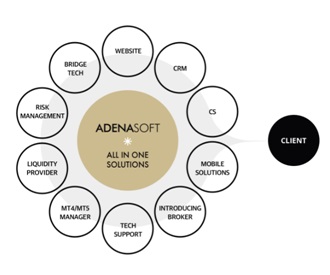 AdenaSoft's state of the art architecture offers all-in-one solutions that makes the seamless systems integration possible.  AdenaSoft deploysits comprehensive solutions program uniquely designed to meet the needs of trading companies dealing with complex financial instruments such as FX, CFD, Commodities and Cryptocurrencies.  The company developed and launched its proprietary PAMM/MAM technology for MT4/MT5 platforms: one of the best in the industry popular for While Label clients.
In addition, AdenaSoft recently built and released robust all-in-one solutions for e-wallet and money transfer platforms tapping into the payment industry.
AdenaSoft's sophisticated CRM system and back office tools enable corporate customers to focus on their business profitability (sales data and key performance metrics to name a few) with customizable granularity (by region, trade history and many more) much needed in the financial services sector.  These programs are built with user friendly interfaces making it easy to use for the management for business analytics.
User friendly designs are well embedded throughout AdenaSoft's platforms including customer services tools: customer management systemscan monitor and process all customer facing transactions such as account onboarding and deposit/withdrawals. This tool encompasses homepage functionality, IB sites, and MT5/MT4 terminals as well as generating automated emails for customer communication.
All systems are mobile adopted (for both Android/iOS), supported by Risk Management tool and ultra-fast integration in business deployment.
In summary, AdenaSoft boasts:
Advanced all-in-one solution for trading, payment, and financialservices business
High-speed and high-capacity Bridge Finance Technology and PAMM/MAM for MT4/MT5 platforms
A multicultural teamconsisting of decades of experience in the FinTech industry with top-notch software engineers, designers, and financial experts
AdenaSoft solutions enable hundreds of companies to easily leverage high-level technology digitized by secure and reliable systems built for financial services companies. To read more about each service visit http://www.AdenaSoft.com/all_in_one or submit your question to info@adenasoft.com.