Acura Precision Concept Makes Chicago Auto Show Debut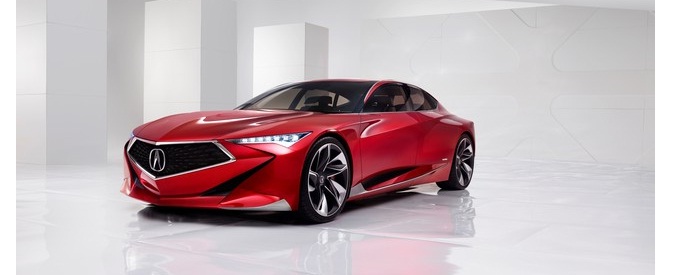 The Acura Precision Concept is coming to the Windy City, making its Chicago Auto Show debut following its unveiling at the North American International Auto Show last month. The concept model embodies the Acura brand DNA of Precision Crafted Performance – performance delivered with incredible precision, outstanding quality and elegant, innovative engineering – and previews the future design of all future Acura vehicles.
With an emphasis on high-contrast details; the intersection of modern, sheer surfaces and muscular, organic sculpting; the Acura Precision Concept communicates Acura's focus on performance and prestige. The concept features the new Diamond Pentagon grille, the biggest and boldest express of the Acura marque. The Acura Precision Concept also previews the next-generation HMI interior technology, utilizing facial recognition, a large center screen, heads up display and touch pad navigation. The concept was created by Acura's California Design Studio under the direction of Acura global creative director, Dave Marek, with the exterior design led by Michelle Christensen, principal exterior designer.
The all-new 2017 Acura NSX will return to the Chicago Auto Show, showcasing a new color to the Midwest market: 130R White coupled with a stunning red interior. Created to bring a new experience to the supercar segment, the next-generation Acura NSX challenges conventional beliefs about supercars, with cutting-edge and world-first technologies. Much as the first generation NSX did a quarter century ago, the 2017 NSX breaks the mold through a first-of-its-kind Sport Hybrid Super Handling All-Wheel Drive power unit, a multi-material body structure, advanced aerodynamics and a cockpit that supports performance driving on every level without sacrificing comfort.
Designed, developed and manufactured in America, the 2017 Acura NSX will have a Manufacturer's Suggested Retail Price (MSRP)1 of $156,000 in the U.S. and will top out at $205,700 when equipped with all available factory features and options. Exclusive global production of the NSX is set to begin this spring at the new Performance Manufacturing Center in Marysville, Ohio2. On Feb. 25, future customers and fans can design and build their dream NSX with the online NSX configurator, and future customers can contact an authorized NSX retailer to place their order as well.
For More Information
Additional media information including specifications, features, pricing, high-resolution images and video is available atwww.acuranews.com. Consumer information is available at www.acura.com. To join the Acura community on Facebook, visit facebook.com/Acura.
About Acura
Acura is a leading automotive luxury nameplate that delivers Precision Crafted Performance through advanced product design and innovative technologies. On March 27, 2016, Acura will celebrate the 30th anniversary of its launch as the first luxury nameplate from a Japanese automaker. More than 90 percent of the products Acura sells in America are built in America using domestic and globally sourced parts.
The Acura lineup features five distinctive models – the RLX luxury flagship sedan, the TLX performance luxury sedan, the ILX sport sedan, the 5-passenger RDX luxury crossover SUV, and the seven-passenger Acura MDX, America's all-time best-selling three-row luxury SUV. This spring, Acura will launch its next-generation, electrified NSX supercar as a new and pinnacle expression of Acura Precision Crafted Performance.
1 MSRP excluding tax, license, registration, $1,800 destination charge and options. Dealer prices may vary.
2Manufactured using domestic and globally sourced parts.