Accept Cryptocurrency Payments with B2BinPay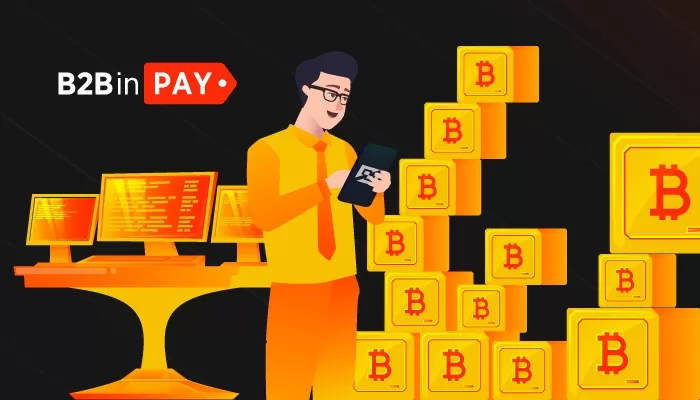 Businesses who are looking to boost their revenues can benefit from the latest crypto trend which has resulted in an increasing number of people looking for merchants who will accept cryptocurrency payments. Never has the demand for crypto payments been so high, with their popularity reflected in the present day cryptocurrency market capitalisation.
Already, we can see that more and more companies have started accepting Bitcoin and how it is becoming an increasingly accepted form of payment. The time is approaching where we will soon be able to say that cryptos are a mainstream payment method. Although Bitcoin is the most popular cryptocurrency, there are others that are widely in use including Ethereum and Litecoin.
It is, therefore, clear that online businesses looking to give their company's bottom line should look at accepting cryptocurrencies in order to capitalise on new target audiences, as well as to take advantage of many other benefits. It's also a great mode of payment for businesses as they can, for example, bypass transaction fees for credit card acceptance by eliminating the middleman which will reduce their costs. Cryptocurrency acceptance has also resulted in a rise in demand for supporting services.
About B2BinPay
B2BinPay enables businesses to send, receive, store, exchange and accept cryptocurrency payments online, safely, securely and cost-effectively globally in minutes, enabling both crypto/crypto and crypto/fiat payments methods. Its user-base includes cryptocurrency exchanges, forex brokers, online stores and a wide range of other merchants.
As one of the industry's leading payment providers which recently scooped an award for Best Cryptoprocessing Solution 2020 from Finance Magnates, B2BinPay can provide you with the facility to offer your customers crypto payments online by quickly integrating a leading crypto gateway that can be implemented in a few steps.
With B2BinPay, you can accept Bitcoin payments and a huge range of other cryptocurrencies. By offering your customers this extra payment method, you can also reach new clients. The added benefit of lower charges and secure transactions, makes it easy to see why B2BinPay has become a go-to crypto payment provider.
As well as capitalising on the trends and catering for current and future consumers, B2BinPay provides you with the means to differentiate your businesses from your competitors. Getting started is an easy process and integrating a merchant account couldn't be simpler.
B2BinPay offers a wide range of features and account types tailored for every type of business:
Account Types for Merchants and Enterprises
Merchants
With B2BinPay, merchants can offer their customers Bitcoin, Ether, Litecoin and more as a payment option. It's easy to securely and effectively send, receive, store and exchange and accept crypto payments online with a solution which is now one of the leading crypto payment gateways in the industry. Features include low processing fees, no recurring fees, no hidden charges, real-time balance/transaction history, downloadable reports and secure checkout.
Enterprise Clients
Enterprise clients can receive, store and send a large range of virtual currencies such as Bitcoin, Ethereum, Ripple and Monero. An extremely secure, reliable and scalable wallet solution from a reputable, industry-leading cryptocurrency payment provider, features include secure API, automatic withdrawals for clients and a sandbox environment for development teams, over 888 coins and tokens supported and advanced real-time reports, together with 24/7 technical support.
Why Choose B2BinPay?
As one of the industry's leading crypto processors, B2BinPay offers commission rates starting as low as 0.5% which are recognised as amongst the lowest fees in the industry.
Coins: BTC, ETH, LTC, DASH, ADA, XMR, BCH, XRP, NEO, NEM, XLM, ZEC, EOS.
Stablecoins: USDT, USDC, GUSD, PAX, TUSD.
Tokens: BNB, OMG, BAT, KCS and many other tokens.
Multiple Benefits:
● No recurring fees or hidden charges
● Crypto/crypto and crypto/fiat withdrawal methods available
● Highly secure, reliable and scalable wallets solutions
● Risk-Free Crypto Exchange services with low fees
● Payments from anywhere in the world
● Automatic creation of invoices, accepts and sends cryptocurrencies
● Downloadable reports, real time balance and transaction history
● Secure checkout
● Automatic withdrawals
● Secure API and sandbox environment availability
● Over 800 coins and tokens supported
● 24/7 technical support in 8 languages
Integrating B2BinPay makes logical financial sense and is the best way for merchants and enterprises to access the cryptocurrency markets quickly and easily to facilitate worldwide crypto transactions.
B2BinPay provides you with the technology to welcome new customers on board, quickly and hassle-free! B2BinPay is powered by B2Broker, a world-leading liquidity and technology provider. Contact us today!