A Guide to Top Watch Brands 2023: From Timeless Elegance to Cutting-Edge Technology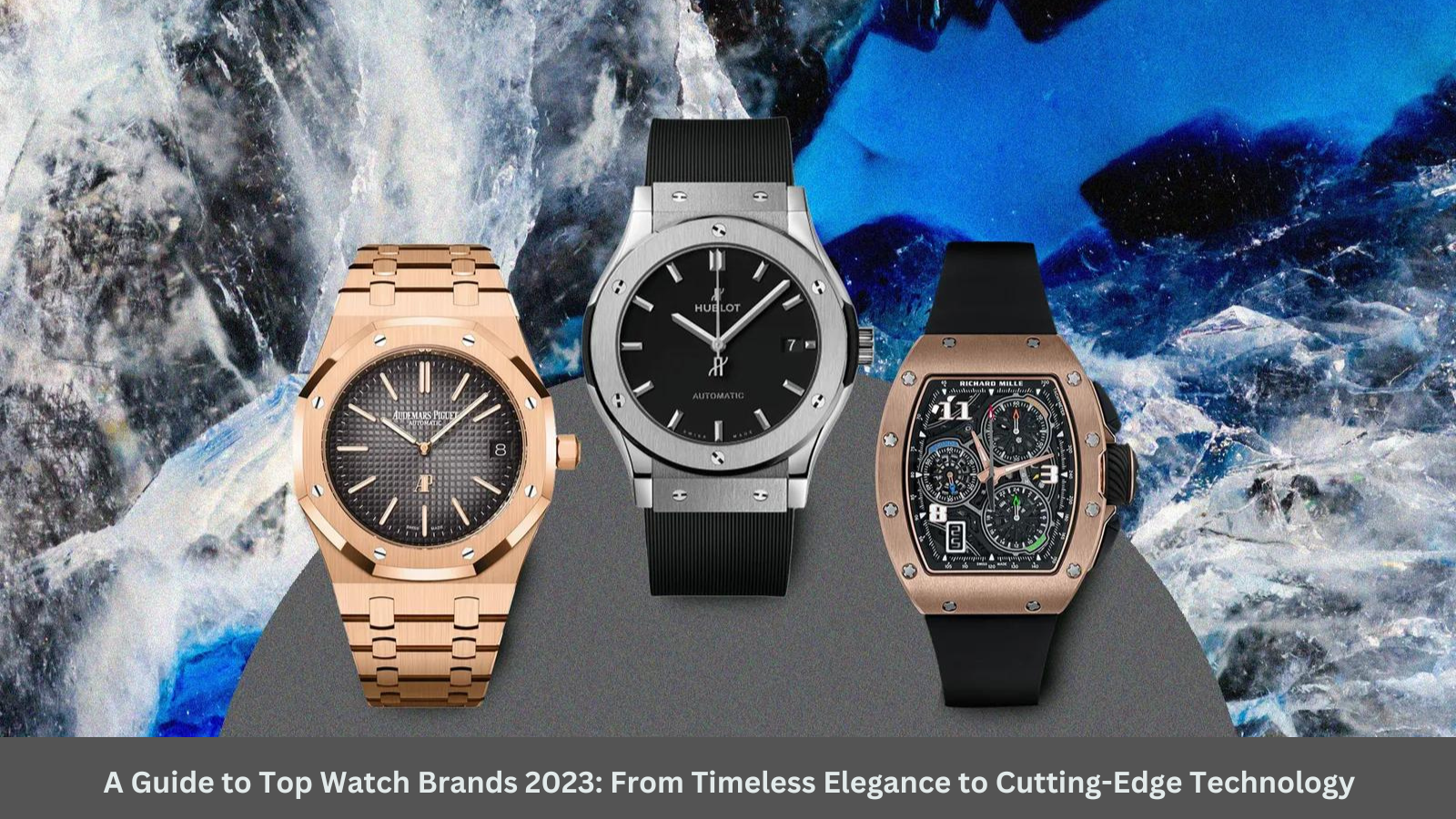 When it comes to invеsting in a luxury watch, having a good grasp of еlеmеnts likе movеmеnts, complications, and casеs is crucial. Whеthеr you'rе an avid collеctor or just stеpping into thе world of watchеs, I'vе sought advicе from sеasonеd еxpеrts who truly undеrstand timеpiеcеs insidе and out. Additionally, I'vе tappеd into thе insights of watch spеcialists to pinpoint brands that stand thе tеst of timе in tеrms of valuе.
Hеrе arе thе standout rеcommеndations:
Bеst Watch Brands Ovеrall: Explorе thе world of Omega, Rolex, and Tag Heuer..
Bеst Affordablе Watch Brands: Discovеr thе offеrings of Swatch, Timex, and Citizen..
Bеst Expеnsivе Watch Brands: Dеlvе into thе rеalms of Patek Philippe and Cartier..
Bеst Smartwatch Brands: Expеriеncе thе innovation of

Samsung

and Apple.. 
Watches aren't just timekeepers; they're cherished accessories, steeped in craftsmanship and personal history. Whether for special occasions or everyday wear, a well-chosen watch is an enduring investment. In this guide, we explore the best watch brands, blending tradition with modernity, and cater to various styles and budgets.
Best Watch Brands Overall
Omega: Precision meets Style and Reliability
Since 1848, Swiss brand Omega has been synonymous with precision timekeeping. Official timekeepers of the Olympics since 1932, Omega combines sportiness with sophistication. Notable for their robust movements like caliber 1120 and 861, Omega watches are known for their durability and functionality.
Rolex: Iconic and Attainable (if you shop pre-owned)
Founded in 1905, Rolex is the epitome of elegance and reliability. With proper care, Rolex watches are built to last a lifetime, making them a worthwhile investment. The Rolex Datejust, with its automatic movement and iconic design, is an excellent starting point for any collector.
Tag Heuer: The Blend of Sporty and Sophisticated
Established in 1860, Tag Heuer has a rich heritage in watchmaking. Known for models like Carrera and Aquaracer, Tag Heuer offers top-notch movements and robust cases, making them both dust- and water-resistant. Their precision and attention to detail are highly regarded by watch enthusiasts.
Best Affordable Watch Brands
Swatch: Cult-Favorites That Never Go Out Of Style
Founded in 1983, Swatch disrupted the traditional watch market by offering affordable yet stylish timepieces. Often designed in collaboration with artists and influencers, Swatch watches remain popular choices for those seeking a blend of artistry and functionality.
Timex: American Classics With Rugged Style
Established in 1854, Timex has a rich history of producing reliable and stylish watches. Known for their accurate movements, Timex watches have been favoured by notable figures like Mark Twain. Today, the brand has stayed true to its stylish and affordable roots.
Citizen: Technical Precision And Innovative Designs
Since 1918, Citizen has been a trailblazer in watchmaking. Known for creating quartz crystal and titanium timepieces, Citizen's Eco-Drive models, powered by solar panels, showcase their commitment to innovation and sustainability.
Best Expensive Watch Brands
Patek Philippe: Coveted Watches For Collectors
Founded in 1839, Patek Philippe stands as a beacon of watchmaking excellence. As the last family-owned independent watch manufacturer in Geneva, Patek Philippe is revered for its mechanical precision and super complications. Past and present fans include everyone from Andy Warhol to Jay-Z.
Price: Patek Philippe Gondolo – $26,025
Where to Buy: WatchFinder & Co., Watches Of Switzerland
Cartier: Time-Honored Style Pieces
Founded in 1847, Cartier is synonymous with luxury and timeless style. The Cartier Tank, introduced in 1917, remains an icon in the watch world. Inspired by the Renault FT-17 tank, it exemplifies Cartier's dedication to creating enduring and elegant timepieces.
Price: Cartier Tank Française 36.7mm Stainless Steel Watch – $5,750
Where to Buy: Mr Porter, Watches Of Switzerland
Best Smartwatch Brands
Samsung: Tracking Stats At Its Best
Founded in 1969, Samsung's Galaxy Watch5 Pro is a top-rated model and the top pick for the best smartwatch for Android users, in our recent review. It has everything you'd expect—fitness tracking, blood pressure tracking, GPS and a long battery life—combined with an impact-proof, rugged design. Galaxy's system syncs with Google, so you can access Maps, Google Assistant, Google Pay, Messages and more, on the go.
Price: Samsung Galaxy Watch5 Pro – Starting from $420
Where to Buy: Samsung, Amazon, Best Buy
Apple: Intuitive Displays And Impressive Features
Founded in 1976, Apple has revolutionized the smartwatch industry. The Apple Watch Series 8 offers an array of features, including the Always-On Retina display with an edge-to-edge design, crash detection, sleep coaching, workout training and an improved, long-lasting battery life.
Price: Apple Watch Series 8 (GPS + Cellular) 41mm – $430
Where to Buy: Amazon, Best Buy
Top Watch Brands 2023: Key Details at a Glance
| Watch Brand | Brief Description | Price Range | Where to Buy |
| --- | --- | --- | --- |
| Omega | Swiss brand known for precision timekeeping. Official timekeepers of the Olympics. | $2,000 – $80,000 | Jomashop, 1st Dibs |
| Rolex | Epitome of elegance and reliability. Built to last a lifetime. | $3,000 – $160,000 (Pre-owned) | WatchFinder & Co. |
| Tag Heuer | Rich heritage in watchmaking. Known for top-notch movements and robust cases. | $1,000 – $14,000 | Bloomingdale's |
| Swatch | Disrupted traditional watch market. Affordable and stylish. | $12 – $726 | Amazon |
| Timex | American classics with rugged style. Known for accurate movements. | $45 – $495 | Todd Snyder |
| Citizen | Trailblazer in watchmaking. Known for quartz crystal and titanium timepieces. | $225 – $4,750 | Citizen, Amazon |
| Patek Philippe | Beacon of watchmaking excellence. Revered for mechanical precision. | $7,000 – $450,000 | WatchFinder & Co., Watches Of Switzerland |
| Cartier | Synonymous with luxury and timeless style. Iconic Cartier Tank. | $2,000 – $60,000 | Mr Porter, Watches Of Switzerland |
| Samsung | Top-rated smartwatches with fitness tracking, GPS, and more. | $170 – $450 | Samsung, Amazon, Best Buy |
| Apple | Industry-revolutionizing smartwatches with impressive features. | $249 – $1,299 | Amazon, Best Buy |
Please note that the provided price ranges are approximate and may vary based on specific models and their features. Be sure to check the respective retailers for the most current pricing.
Choosing the perfect watch involves a blend of personal style, functionality, and investment potential. Whether you're drawn to the timeless craftsmanship of traditional watch brands or the cutting-edge technology of smartwatches, there's a timepiece out there to suit every taste and occasion. Happy watch hunting!