8 Free Volunteering Opportunities Abroad In 2020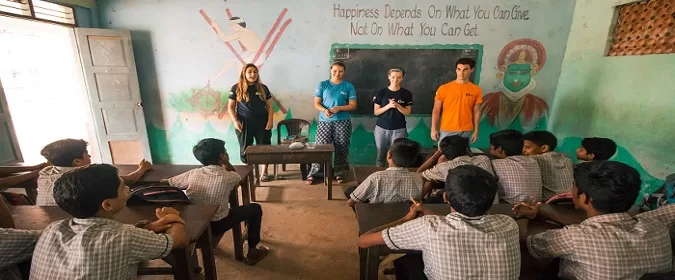 Volunteering abroad is a rewarding, enriching experience, that will not only allow you to immerse yourself in a new culture and develop transferable skills but make new friends and step out of your comfort zone. Sometimes volunteering opportunities can come with a costly price tag, but they don't have to! We haveput together a list of 10 free volunteering opportunities abroad, so you don't miss out on the experience of a lifetime.
Sudan Volunteer Programme
The Sudan Volunteer Programme is based in the UK and offers native English-speaking university graduates the chance to volunteer in Sudan teaching English as a foreign language. You do not have to pay any application fees to join the programme and will receive a small payment and accommodation throughout your stay to allow you to enjoy life whilst you live there. The only cost involved in this programme is that you must pay for your flights to and from Sudan. If you are looking for a completely unique experience, to brush up on your Arabic or to explore a country off the beaten path, then this is the free volunteer programme for you.
WOOF (Worldwide Opportunities on Organic Farms)
WOOF is an organization that brings people together from all around the world to work on organic farms. It emphasizes sustainability and promotes cultural exchanges through the organic movement. WOOF is located around the world including Australia, Canada and the USA. All you need to do is first decide what country you wish to volunteer in. You will then apply to a host farm and if you are accepted you will volunteer 4-6 hours a day on the farm in exchange for free food and lodging. This is a fantastic opportunity to learn firsthand how to grow organic produce and look after an organic farm. There are no costs involved, all you will need to cover is flights and any transport to and from the farm. This volunteering opportunity is popular with long-term travellers or backpackers.
Work in a Kibbutz in Israel
Kibbutz communities have been welcoming volunteers in Israel for over 50 years. A Kibbutz is a sustainable community that is socially responsible and shares everything equally. At the heart of the community is the farm, which is where volunteers will spend most of their time, in exchange for accommodation, three meals a day, laundry, a volunteer club and cultural trips and activities. You will also receive a small payment. In order to volunteer, you must be able to stay between two to twelve months and be aged 18-35. For some Kibbutz, you will be required to pay a $100 deposit, but for many, there will be no fees.
International Citizen Service, ICS
The ICS offers young adults aged 18-25 the chance to volunteer overseas with a volunteer placement. These placements last for 12 weeks and are based in a variety of countries around the world from Tanzania to Bangladesh. To apply you must fill out an online application form, attend an assessment day and fundraise £800. It's recommended that you apply six months before you plan to volunteer. If you are aged 23-35 and have supervisory experience you can alternatively volunteer as a team leader. The only costs you will need to cover for this experience is £800, which you are required to fundraise and your flights to and from your destination.
Erasmus+
Erasmus+ offers opportunities for students to volunteer and study abroad. Students can choose from university exchanges, teaching English as a foreign language, youth exchanges or joint master's degrees. This is a great opportunity for someone who is currently studying or looking to gain experience for their CV whilst working and learning the culture of another European country. One of the most popular Erasmus schemes is Erasmus Traineeships, which offer current students or graduates an opportunity to gain an internship abroad.
UN Volunteers
UN Volunteers offer 30-month placements in several locations around the world. To be eligible you will need to have two years' experience in a profession and being able to speak an additional language would be a plus. Jobs can vary from educational roles to health or even business-related. Volunteers receive a resettlement payment and a regular wage to help them with their everyday living costs. A return airfare is also included. This volunteer programme is not for someone who has just graduated and is targeted towards someone who has experience in their field and wants to share this with others.
The 'English Open Doors' Programme Chile
This programme is funded by the Chilean government as an incentive to get native English speakers into Chile to help children learning English develop their listening and speaking skills. There is also a big emphasis on cultural exchange and the scheme is open to native English speakers with a bachelor's degree who are aged between 21-35 years old. The minimum length of time you can stay is four months. You will be responsible for covering your flights to and from Chile, but once there you will receive free accommodation, meals and an allowance of CLP 100,000 a month which translates to $127 USD, which is more than enough to get by.
English Teaching Fellowship Programme, Colombia
Similar to Chile, the Colombian government also has a programme to encourage native English speakers to volunteer and teach English as a foreign language. The idea is the same in that Colombia wants to allow school learners to develop their English listening and speaking skills with a native speaker. To qualify you need to have a bachelor's degree and be a native English speaker, you do not need to have a TEFL certificate or have any teaching experience. You must be able to commit to either a five- or eleven-month placement and be able to work for 25 hours a week. There are no costs involved in this programme, all you need to do is have travel insurance and pay for your flight to and from Bogota, any onward flights to your teaching location will be covered by the scheme. You will receive free accommodation and a monthly allowance of 1,500,000 COP which translates to $348 USD.