​NTU's new high-tech simulators to help smooth air traffic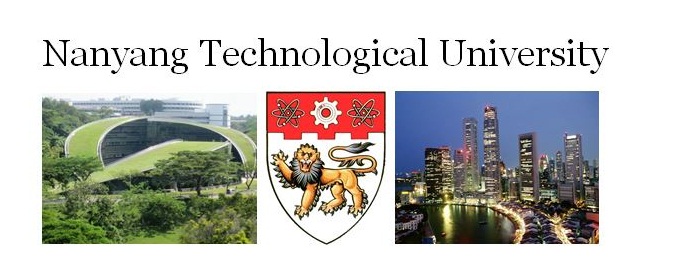 Nanyang Technological University (NTU) is launching one of the world's most advanced and largest tower simulators.
The new Air Traffic Control Tower Simulator is two storeys high and gives a full 360-degree panoramic view of any airport it simulates, including Changi Airport.
When paired together with the Radar Simulation Laboratory, new flights routes as well as improved flight management software can be tested to assess their efficiency in reducing traffic congestion at the airport.
These two simulators are part of NTU's new Air Traffic Management Research Institute (ATMRI) which looks at developing innovative solutions that can improve aviation safety and improve the capacities of airports.
The research institute, jointly set up by NTU and the Civil Aviation Authority of Singapore (CAAS), is a key part of the national effort to build Singapore as a Centre of Excellence for air traffic management.
Air Traffic Control Tower Simulator
NTU's new air traffic control tower simulator is one of the most advanced and largest in the world, with an external diameter of 13 metres. Built in collaboration with NTU's research partner, the German Aerospace Centre DLR, the tower can simulate the working environments of the Changi Control Tower cabin or that of any airport.
It provides a high resolution, 360-degree panoramic view of the aerodrome and its vicinity, simulating various weather and traffic conditions, complete with moving, 3D models of aircrafts.
Like real towers, it has six control positions operating the various work stations such as for communication, ground radar, airside situation, the arrival and departure manager, weather information system and flight plan data system.
Its first research project is to optimise arrival and departure sequencing, which determines the usage of the runway for landing and take-off.
Typically, the arrival manager and departure manager software suites are operated separately in most air traffic control systems. In theory, combining the two should reduce waiting times for take-off and landing, thus increasing the number of flights handled daily by a tower and helping an airport increase its capacity.
Other NTU research projects using the tower simulator include testing out new concepts, such as using a single air traffic control tower to handle concurrent traffic on multiple runways.
Radar Simulation Laboratory
Radar control stations play an important role in air traffic control systems, as the radar controllers are responsible for tracking aircraft in a particular airspace.
They also plan the routes of air traffic in and out of the airport and assist the air traffic controllers who guide the aircrafts on these routes.
At the new Radar Simulation Lab, new user interfaces and assistive software can be tested by radar controllers to determine the optimal layout for data and information and their effectiveness.
Such optimised software will enable radar controllers to perform their tasks better, resulting in more flight capacity at an airport or in airspace while minimising travel delay.
The lab can also perform simulations of aircraft trajectories, so as to develop more efficient aircraft holding, landing and take-off routes. It will also develop and test new air traffic management concepts and procedures, so as to maximise efficiency and streamline work processes.
Both simulators are powered by NARSIM, an integrated tower and radar simulation software developed by Netherlands' National Aerospace Laboratory.
Tackling air traffic congestion in Asia
Air traffic in Asia Pacific is set to triple, with passenger numbers reaching 7.3 billion by 2034, according to the latest forecast by the International Air Transport Association.
NTU Provost Professor Freddy Boey said NTU's research will boost air traffic management science, which is urgently needed to minimise travel delay and gridlocks at airports.
"Congested air space is a problem that all airports and countries will face eventually. For example, in the last few decades, Europe and the United States have developed ways to efficiently manage the massive air traffic through intensive research and development programmes.
"With these two new simulators, NTU can realistically simulate future air traffic scenarios at Changi Airport as well as other international airports, testing new solutions that could increase traffic capacity while reducing the risk of air traffic incidents.
"Developing such innovative solutions is a multi-disciplinary effort, made possible through NTU's expertise and synergy in mechanical and aerospace engineering and computer sciences. These solutions will be extremely beneficial to Asia, as the region seeks to harmonise its airspace."
Expected research outcomes
Dr Hsin Chen-Chung, Director of ATMRI, said there are currently 10 research projects in the pipeline which will use the simulation tower and lab extensively.
"Ultimately, our goal at NTU is to develop innovative solutions that enable airports and airspace to improve their efficiency and handle more flights daily, thus increasing capacity; as well as improve the safety of air travel through new standard operating procedures, software and air traffic concepts."
Occupying a floor space of 1,000 square metres (the size of 1.5 football fields) and housed at the School of Mechanical and Aerospace Engineering, the research institute will also provide manpower for the air traffic management industry in the region.
It will train up to 30 postgraduates and provide industry exposure to about 200 undergraduates through air traffic management-related academic projects over the next five years.
ATMRI's research areas
• Air-Ground Traffic Management: Improve runway throughput through more effective management of air traffic and airspace around the airport.
• Weather Forecast and Information Management: Enable advance planning of air traffic flows by minimising weather-induced disruptions to flight operations.
• Unmanned Aircraft System Management: Develop concept of operations for unmanned aircraft systems (UAS) in busy and complex airspace, and the accompanying technology enablers to allow safe operations.
• Route Network Performance: Optimise route network to increase capacity by using advanced modelling and simulation tools.
• Human Performance: Enhance human-machine interface to reduce human errors arising from increased automation, and optimise workflow efficiency.
***END***
Media contact:
Lester Kok
Senior Assistant Manager
Corporate Communications Office
Nanyang Technological University
Email: lesterkok@ntu.edu.sg
About Nanyang Technological University
A research-intensive public university, Nanyang Technological University (NTU) has 33,500 undergraduate and postgraduate students in the colleges of Engineering, Business, Science, and Humanities, Arts, & Social Sciences. It has a new medical school, the Lee Kong Chian School of Medicine, set up jointly with Imperial College London.
NTU is also home to world-class autonomous institutes – the National Institute of Education, S Rajaratnam School of International Studies, Earth Observatory of Singapore, and Singapore Centre on Environmental Life Sciences Engineering – and various leading research centres such as the Nanyang Environment & Water Research Institute (NEWRI), Energy Research Institute @ NTU (ERI@N) and the Institute on Asian Consumer Insight (ACI).
A fast-growing university with an international outlook, NTU is putting its global stamp on Five Peaks of Excellence: Sustainable Earth, Future Healthcare, New Media, New Silk Road, and Innovation Asia.
The University's main Yunnan Garden campus has been named one of the Top 15 Most Beautiful in the World. NTU also has a campus in Novena, Singapore's medical district.
For more information, visit www.ntu.edu.sg